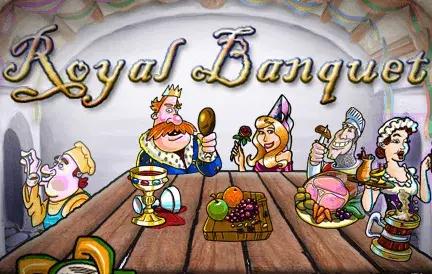 Feast your senses on the lavishness of the Royal Banquet, the newest regal offering at Red Dog Casino. This slot machine, designed with opulence in mind, transports players straight to a grand hall, where a king's feast is in full swing and where riches are just a spin away.
Royal Banquet is a celebration of medieval splendor. With a backdrop of grand tapestries and golden chandeliers, players are instantly drawn into the world of nobility. The slot symbols, which range from goblets filled with wine to platters of sumptuous food, create an atmosphere of elegance and luxury that's hard to resist.
Yet, the allure of Royal Banquet doesn't end with its visual splendor. The game offers a rich menu of bonus features, ensuring that players are served a course of excitement with every spin. From jester wilds to throne scatters, the game has been crafted to ensure an experience fit for royalty.
Key Features:
Medieval Majesty: Dive into an era of kings, queens, and lavish feasts with stunning graphics.
Regal Rewards: Multiple bonus features designed to serve up generous wins.
Majestic Melodies: A soundtrack that perfectly captures the grandeur of a royal celebration.
In essence, Royal Banquet is a toast to the bygone era of chivalry and grandeur. It masterfully combines the allure of a medieval feast with the thrills of modern-day slots, offering players an experience that's both nostalgic and exciting. Whether you dream of feasting with kings or simply love the allure of a well-designed slot machine, Royal Banquet is sure to satisfy your cravings. So, don your royal robes, head to Red Dog Casino, and indulge in the splendor of the Royal Banquet. The king's treasury awaits your arrival!