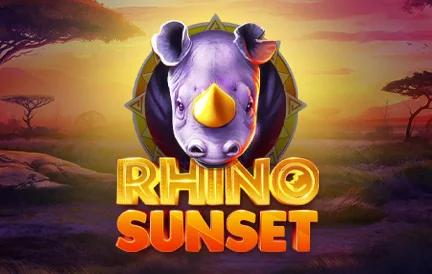 In the heart of the virtual savannah, amidst the digital wilderness, Rhino Sunset by DiceLab emerges as a captivating slot machine from Red Dog Casino. Developed by a renowned provider, this game allows players to embark on an exciting journey through its 5 reels and 10 paylines. In this comprehensive Rhino Sunset slot review, we'll delve into the game's theme, design, gameplay features, and winning strategies and address frequently asked questions. So, fasten your seatbelts as we explore the world of Rhino Sunset.
Theme & Design
Rhino Sunset's theme immerses players in the wild African savannah, a landscape teeming with life and adventure. The backdrop features a stunning sunset, painting the sky with warm hues of orange and red. The reels themselves are adorned with an array of wildlife symbols, bringing the essence of the safari directly to your screen. The graphics are crisp and vibrant, ensuring a visually pleasing gaming experience. The user-friendly interface makes navigation a breeze, allowing players to focus on the thrilling gameplay.
Gameplay Features
Wild Rhino: The star of the show is the Wild Rhino symbol, which not only substitutes for all other symbols but also doubles your winnings when it helps form a winning combination. This powerful creature can significantly boost your chances of landing a big win.
Rhino Sunset Scatter: The Rhino Sunset scatter symbol is another key feature to watch out for. When you land five of these scatters, you'll be rewarded with a generous $100. Four scatters earn you $10; three scatters bring in $5; two scatters still net you a decent $1. Keep your eyes peeled for the elusive Rhino Sunset scatter, which can lead to substantial rewards.
Animal Symbols: Besides the Rhino and Rhino Sunset, the game features various animal symbols, each with its own payout potential. Baboons are worth $500 for five in a row while spotting six eagles will earn you $250. The era and lemur symbols can award you $100 for landing five of each. For those seeking more modest payouts, there are the classic playing card symbols – aces, kings, queens, jacks, and tens, ranging from $10 to $50 for five-of-a-kind combinations. These symbols contribute to the game's theme and provide diverse ways to win.
Winning the Game
The payout range in Rhino Sunset is diverse, offering a thrilling blend of high and low-value symbols. To maximize your chances of winning, consider the following tips.
Leverage the Wild Rhino: The Wild Rhino is your best friend in this game. Use it strategically to complete winning combinations and double your earnings.
Focus on Rhino Sunset Scatters: Keep your eyes on the Rhino Sunset scatter symbol. Landing five or more can result in substantial payouts, significantly boosting your bankroll.
Bet wisely: Manage your bets according to your bankroll. While larger bets can lead to bigger wins, smaller bets ensure you can enjoy extended gameplay sessions.
Practice in free mode: Before diving into real money play, use the game's free mode to familiarize yourself with its mechanics and payables.
Set limits: Establish a budget and stick to it. Responsible gaming is key to ensuring an enjoyable experience.
FAQ
Can I play Rhino Sunset online slot for free?
Yes, Rhino Sunset offers a free play mode, allowing players to explore the game's features in a demo version. However, you can also enjoy Rhino Sunset for real money. All you need is an account and a deposit.
Is Rhino Sunset available on mobile devices?
Yes, the slot game is optimized for mobile play, ensuring you can enjoy it on your smartphone or tablet.
What is the maximum payout in Rhino Sunset?
The maximum payout in Rhino Sunset slots can be substantial, especially when landing multiple Rhino Sunset scatter symbols. The exact amount depends on your bet size and the symbols in your winning combination.
Conclusion
In the realm of online slot games, Rhino Sunset at Red Dog Casino stands out as a thrilling safari adventure. With its immersive theme, captivating design, and exciting gameplay features, including the formidable Wild Rhino and the rewarding Rhino Sunset scatter, it offers players a chance to explore the wild African savannah while chasing impressive payouts. Whether you're a seasoned player or a newcomer to the world of slots, Rhino Sunset provides an entertaining and potentially lucrative gaming experience. So, set off on your virtual safari today and see if you can uncover the treasures of the savannah in Rhino Sunset. Good luck!