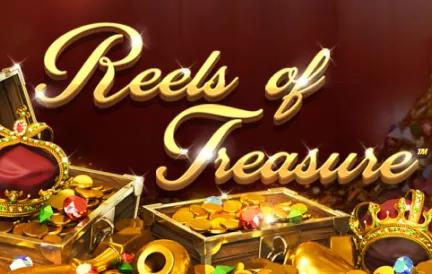 Treasure seekers and slot enthusiasts, your quest ends here with Reels Of Treasure, a gem in the collection at Red Dog Casino. This slot machine is not just another game; it's an expedition into a world of opulence, filled with glistening jewels and untold riches.
From the get-go, Reels Of Treasure captivates with its glittering design. The reels are adorned with precious stones, gold coins, and other symbols of affluence, all rendered in high-definition graphics that sparkle with every spin.
Highlights of Reels Of Treasure:
Megastar Jackpot: An exciting feature where players can strike a monumental win.
Rolling Wins: With each win, players get a free re-spin, enhancing the chances of consecutive wins.
Multiplying Wilds: Boost the winnings by amplifying the payline.
Optimized Experience: Smooth gameplay on both mobile and desktop platforms.
The audio element of the game complements the theme perfectly. The sound of clinking coins and a majestic soundtrack evoke the ambiance of an opulent chamber filled with treasures.
In summation, Reels Of Treasure is a masterclass in slot design and gameplay mechanics. It brings to the forefront the thrill of treasure hunting while offering players numerous opportunities to strike it rich. Red Dog Casino's repertoire of premium games gets a brilliant addition with this slot machine. The combination of captivating visuals, sound design, and rewarding features makes it a standout. Whether you're on the hunt for a treasure-themed slot or looking for a game with lucrative features, Reels Of Treasure promises an adventure worth embarking on. Grab your map, set your sails, and dive into this treasure trove for a gaming experience like no other!