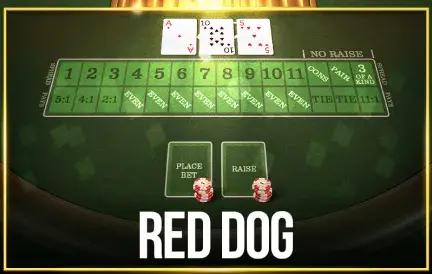 For those with a penchant for card games that are a bit off the beaten track, Red Dog by Betsoft is sure to pique your interest. Distinct from poker but with its own brand of suspense and strategy, Red Dog captures the essence of what makes card games timeless and thrilling.
Right off the bat, Betsoft's design for Red Dog stands out. They have, time and again, demonstrated their prowess in game design, and Red Dog is no exception. With crisp graphics, smooth animations, and intuitive controls, players are seamlessly transported into a high-stakes environment, all from the comfort of their screens.
Noteworthy Features of Red Dog:
Dynamic Gameplay: Red Dog is fast-paced, ensuring players remain engaged from start to finish.
Straightforward Rules: Ideal for both beginners and experienced players. The game revolves around predicting the value of a third card in relation to the first two dealt.
Progressive Betting System: Players can choose to ride their bets, adding a layer of strategy and suspense to each round.
Enhanced User Experience: The game interface is user-friendly, ensuring even first-timers find their footing quickly.
Interestingly, Red Dog is featured on Red Dog Casino, a platform known for its dedication to delivering top-quality online casino experiences. Offering a vast array of games, Red Dog Casino ensures that classics like Red Dog are readily accessible to enthusiasts. The platform's commitment to security, fast payouts, and impeccable customer service complements the gaming experience, ensuring players' satisfaction on all fronts.
In summation, Red Dog by Betsoft is a must-try for card game enthusiasts. Its balance of luck and strategy offers a refreshing change from traditional card games. Whether you're looking to relive old memories of playing Red Dog or are a newcomer keen to dive in, this rendition by Betsoft is sure to deliver hours of excitement. So, deal the cards and let the game begin!