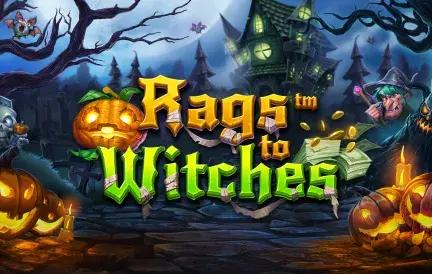 There's always been an allure to tales of transformation, and the Rags to Witches slot perfectly captures this essence. Presented on the distinguished platform of Red Dog Casino, this slot machine offers a magical blend of enchantment and anticipation that few can resist.
From the outset, Rags to Witches enchants players with its brilliantly detailed visuals. Set against a backdrop of a mysterious woodland, the game introduces us to an array of witchy characters, transitioning from their humble beginnings to their powerful witchy personas. The graphics are rich and atmospheric, with a dark, yet alluring palette that truly sets the mood for a mystical gaming adventure.
The slot doesn't just rely on its visuals to captivate. Its soundtrack is both haunting and hypnotic, drawing players deeper into its enchanting realm with every spin.
Features that set Rags to Witches apart:
Transformation Bonus Rounds: Watch characters evolve and transform, presenting unique gaming challenges and rewards.
Potion Wilds: These potent symbols can replace any other, creating spellbinding winning combinations.
Free Spell Spins: Every witch-in-training dreams of more spells. These spins offer more chances to concoct big wins.
Narrative Gameplay: The slot unfolds a story, making players not just gamblers but active participants in a tale of magical ascent.
In conclusion, Rags to Witches isn't just another game; it's an experience of mysticism and magic. With its riveting graphics, captivating sounds, and engaging gameplay, this slot machine is a testament to the creative prowess of Red Dog Casino. If you're ready to embark on a spellbinding journey from humble beginnings to magical mastery, Rags to Witches is the slot to try. Prepare to be bewitched!