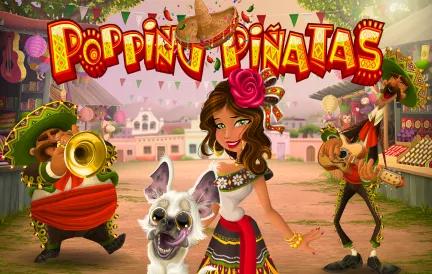 Get ready to enter the vibrant and festive world of Popping Piñatas at Red Dog Casino! This exciting slot game is brought to you by Rival Gaming and takes you on a thrilling journey through a Mexican party. With 5 reels, 50 active paylines, and an attractive top prize of up to 2,500x the stake, big wins have plenty of potential. However, the 94.35% RTP might raise some concerns. Let's delve deeper into the game's theme, design, gameplay features, winning potential, and tips to maximize your chances of success at our Popping Piñatas slot review.
Theme & Design 
Popping Piñatas by Rival Gaming embraces the lively ambiance of a Mexican fiesta with a well-designed layout. The game is set against the backdrop of a bustling local town, with animated Mexican singers adding to the atmosphere. The symbols on the reels include various thematic elements like Piñatas, Skulls, Lost Dog Posters, Dancers, Singers, and other party-themed items. The vibrant graphics and catchy soundtrack enhance the overall gaming experience, immersing players in the festive spirit.
With its engaging gameplay features and potential for substantial rewards, Popping Piñatas promises an exciting and entertaining slot experience. So, grab your sombrero and get ready to join the fiesta as you spin the reels and pop those piñatas for a chance to win big!
Gameplay Features
Betting options in the Popping Piñatas slot game range from $0.50 to $125 per spin, allowing players to choose their preferred wager amount. Here are the main symbols you will encounter during the gameplay.
The game offers two wild symbols, one for the Day Round and another for the Night Round. Both wild symbols not only replace other symbols but also reward players directly if they form winning combinations. The Day Round Wild can award up to 1,000x the line bet, while the Night Round Wild offers up to 750x. 
A Scatter is represented by a Skull, paying out smaller rewards and triggering the Night Round mode. Players can only obtain the scatter symbol during the Day Rounds, and it also has the potential to activate a thrilling bonus game known as "Find Pequeno." 
The game features two Bonus symbols: the Donkey Piñata symbol for the Day Round, which leads to the "Piñata Popping" bonus game, and the Perdido sign for the Night Round, which triggers the "Find Pequeno" bonus. 
Winning the Game 
When it comes to winning potential, Popping Piñatas offers great opportunities, primarily through regular combinations. The Dancer symbol, for instance, can reward lucky players with up to 2,500x the line bet when it covers an entire line. Achieving a full screen of such symbols and wilds can result in a massive payout of up to $312,500.
While luck plays a significant role in slot games, here are some tips to enhance your chances of success in Popping Piñatas: 
play with all 50 paylines active to maximize winning chances; 
look out for Donkey Piñata and Perdido signs; 
prioritize the Wild symbols; 
look out for the Skull scatter symbol during the Day Round.
By incorporating these tips into your gaming approach, you can maximize your winning chances and fully enjoy the festive world of Popping Piñatas slots. Remember that understanding the game's features and utilizing effective strategies will enhance your overall slot gaming experience. Enjoy the party, and best of luck spinning those reels!
FAQ 
Can I play Popping Piñatas on mobile? 
Yes, absolutely! Popping Piñatas is designed with mobile compatibility in mind, allowing players to enjoy the game on their smartphones or tablets. Whether you have an Android or iOS device, you can join the fiesta and play this thrilling slot on the go.
What is the biggest win at the Popping Piñatas slot machine? 
The biggest win achievable in Popping Piñatas is an impressive 2,500 times your stake. With a maximum bet, this translates to a whopping $312,500 prize. Landing a full screen of high-paying symbols and wilds can lead to this incredible payout, making it a truly exhilarating and rewarding gaming experience.
Can I play Popping Piñatas for real money? 
Of course! The minimum bet starts at $0.50, while the maximum bet goes up to $125 per spin.
Conclusion 
Popping Piñatas offers an engaging and visually appealing gaming experience with its vibrant Mexican party theme. The game's layout and the potential for significant rewards make it an enticing choice for slot enthusiasts. With its charming visuals and frequent chances to land prizes, the game promises a delightful escapade into the heart of a Mexican celebration. Despite the lower RTP, the game's captivating gameplay and potential for lucrative rewards make it worth a spin. Just remember to play responsibly and enjoy the lively festivities that Popping Piñatas has to offer at Red Dog Casino!