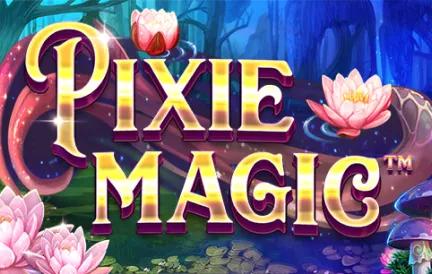 Step softly and listen closely, for the secrets of the swamp are about to be unveiled. Nestled deep within the heart of a mesmerizing flowing forest lies a realm untouched by human hands. Welcome Pixie Magic by Nucleus, a 5x3 slot sensation with an astonishing 243 paylines!
In this world, the boundaries of reality blur. The pixies aren't just fluttering for fun; they're guardians of secrets and hidden treasures waiting to be unfolded. The chance of stumbling upon their riches grows with each spin, making every play a blend of suspense and excitement.
If you're seeking that perfect balance between thrill and fortune, this slot game might be your next favorite! It's an adventure, a challenge, and a whirlwind of action rolled into one. Are you eager to hear more? Keep on reading our Pixie Magic slot review! 
Main Theme Design
Set against the dreamy backdrop of a magical swampy forest, this game effortlessly transports players to a place where time seems to stand still, and every moment is touched with a sprinkle of pixie dust.
The game's visual design deserves a separate review. Smooth, top-tier graphics, combined with flawless animations and rendered with meticulous detail, bring the pixies and their forested habitat to life. The color palette, dominated by refreshing shades of green and tranquil blues, beautifully captures the essence of a serene, moonlit swamp. 
For players with an eye for detail and a love for immersive gameplay, Pixie Magic slots offer more than just a chance at winning; it promises an enchanting and enthralling visual journey!
Mechanics & In-Game Extras
With a few extra features and special symbols up its sleeve, this slot machine is sure to bring hours of immersive gameplay. These features, sprinkled throughout the game, offer a handful of delightful twists and turns that keep even the most seasoned players on their toes.
If you thought you knew slots, think again. This game has a few hidden tricks to boost your chances of hitting it big! Now, let's begin.
Wild Symbol — Appearing on reels 2, 3, and 4, this well-known symbol substitutes for all symbols except for the Free Spins symbol and Bonus Buy Coin. In a scenario where after the wins are calculated, and 3 Wilds show up stacked up on the same reel, they will fuse into one symbol and remain locked in a place for a free re-spin.
Stacked Wild — When stacked Wilds show up during a free re-spin, it sets off another re-spin. If free spins kick in concurrently with, or amidst, a re-spin, then the re-spin takes priority. Once it finishes and all the rewards are dished out, the free spins roll out next.
Free Spins feature — Landing 2 Silver Pixies on reels 1 and 5 triggers the feature and provides the player with 15 Free Spins. Plus, during the bonus round, all wins are multiplied by 3, and the feature can be retriggered!
Scatter Symbol — The Crimson Pixie Scatter and Wild symbols give you Scatter Wins. Only one Wild per reel substitutes the Scatter. Each can contribute to a Scatter Win if a reel has multiple Wilds. Also, Wilds can stand in for Scatters even if no actual Scatter symbols appear.
Buy Feature — The Bonus Buy Coin can pop up randomly on reels 1 and 5. Before tallying up wins, these coins fly away, making room for new symbols. Every Bonus Buy Coin lessens the feature's purchase price by a random value between $0.20 and $2.00. Collect enough coins, and if the Buy Feature cost drops to zero, you'll snag a free spin.
Double Up Game — After a regular win, hit the Double Up button to bet your earnings. However, you can't use Double Up after Free Spins. Choose to risk half or all of your winnings and bet as often as you like. Pick 'gamble all' or 'gamble 50%', then choose 'heads' or 'tails'. If your guess matches the coin flip, your stake doubles. Click 'collect' to secure your wins and return to the game.
FAQ
How many paylines are in Pixie Magic?
This slot machine boasts a whopping 243 paylines with a wide range of special features to multiply your winnings.
Can I play Pixie Magic without risking real money?
Of course! Why not start by choosing to play Pixie Magic online slot for free with the demo? It allows you to enjoy the game for fun while getting a feel for its distinct features. You can seamlessly switch to playing Pixie Magic for real money when ready to up the stakes!
Is Pixie Magic accessible from a smartphone?
Sure thing! Dive into the world of Pixie Magic at Red Dog Casino, where convenience is key. Our top-notch mobile platform ensures the game runs flawlessly whether you're on a smartphone or tablet.
Outro
Alright, it's time to wrap up our journey through Pixie Magic. In two words, the visual design is a delightful blend of elegance and whimsy. Players are treated to many special features that add excitement to every spin. And, of course, let's remember the smooth gameplay that keeps both novices and pros returning for more! This slot game is a delightful mix of aesthetics and action, serving up a casino experience that's simply hard to resist.