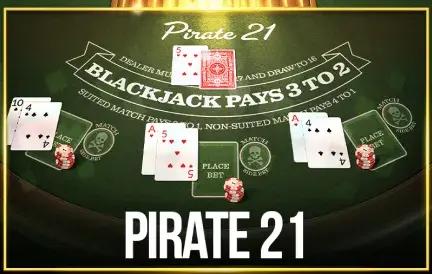 Ahoy, casino enthusiasts! Ready to embark on a swashbuckling journey to hunt for treasures? Pirate 21, a splendid offering by Betsoft, promises to transport players right into the heart of a thrilling pirate adventure, all the while staying true to the classic 21 card game.
As with all of Betsoft's creations, Pirate 21 showcases meticulous craftsmanship in its graphics, sound, and gameplay. The game board features a rustic, sea-weathered look, and players are treated to the sounds of rolling waves, creaking ships, and distant seagulls, creating an authentic pirate ambiance. But beyond its aesthetic allure, Pirate 21 boasts gameplay features that set it apart.
Why Pirate 21 Stands Out:
Unique Deck: Pirate 21 uses a Spanish deck, which means no 10s. This little twist significantly affects strategy, making every hand a fresh experience.
Double Down: Players have the chance to double down on any number of cards, upping the stakes and potential winnings.
Match the Dealer Side Bet: This optional bet adds another layer of excitement and gives players an additional way to win.
Slick Animations: Each card dealt comes with fluid animation, enhancing the overall gaming experience.
Red Dog Casino, known for its expansive collection of top-tier games, proudly hosts Pirate 21. Players can indulge in this card game extravaganza on a platform that ensures swift, secure, and smooth gameplay. Coupled with Red Dog Casino's unmatched customer support, players are assured of a gaming session that's as rewarding as it is entertaining.
In conclusion, Pirate 21 is not just another card game; it's an experience. Betsoft has successfully married the age-old allure of pirates with the timeless game of 21. Whether you're in it for the thrill of the high seas or the strategy of card play, Pirate 21 promises a voyage worth embarking on. Set sail today and chart your course to a jackpot treasure!