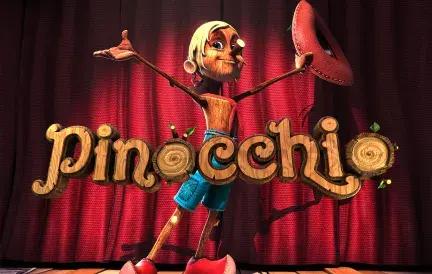 Delving into the timeless world of a beloved wooden puppet's journey, the "Pinocchio" slot machine weaves a tale of magic and wonder. Presented exclusively at Red Dog Casino, Pinocchio brings a classic tale to life, ensuring players are captivated from the very first spin.
Pinocchio's graphics are nothing short of enchanting. Masterfully designed, they transport players to Geppetto's workshop, where the wood carver's creations and tools form the game's symbols. The ambiance is further enhanced with melodies that evoke a sense of nostalgia, making every spin reminiscent of the story's age-old charm.
Key highlights of Pinocchio include:
Real Boy Mode: Collect symbols to help Pinocchio become a real boy, unlocking potential rewards along the way.
Fairy Respins: A nod to Pinocchio's guardian, this feature grants respins, increasing your chances of a winning combination.
Multiple Worlds: Journey through different settings like the classroom and the puppet show, each offering unique bonuses.
Double Up Feature: Test your luck by gambling your winnings, with the potential to double them if you guess correctly.
This slot machine's charm lies in its ability to retell a beloved story while offering players a chance at significant rewards. The gameplay is intuitive, ensuring players of all levels can easily navigate and engage with Pinocchio's world.
In summation, Pinocchio isn't just another slot game; it's an immersive tale of magic, dreams, and transformation. Combining intricate graphics with story-centric features, it offers a gaming experience like no other. Exclusively showcased at Red Dog Casino, this slot machine beckons players to relive a classic tale while standing a chance to walk away with substantial rewards. If you're seeking a fusion of narrative depth and gameplay thrill, Pinocchio is the perfect reel story waiting to be spun!