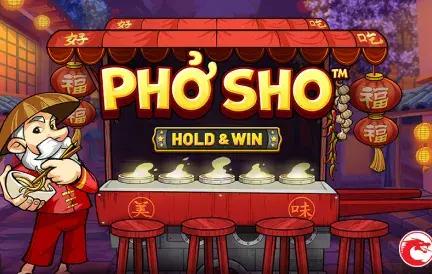 Welcome to the flavorful world of Pho Sho brought to you by Betsoft and Red Dog Casino! If you've ever had a craving for both the excitement of slot machines and the delectable tastes of Asian cuisine, then this game is a match made in heaven.
Pho Sho is a 5-reel, 4-row slot game that invites you to embark on a culinary adventure across 20 fixed paylines. As you spin the reels, you'll be greeted with mouthwatering symbols featuring a tempting array of Asian dishes, from savory stakes to steaming bowls of pho. But it's not just about the visuals; Pho Sho also serves up a feast of special features.
Prepare to spice up your gameplay with Wilds, Scatters, and the Free Games feature. As you play, you can earn bonus coins that allow you to savor the taste of victory by purchasing additional Free Games. It's a slot game that's as satisfying as a sumptuous meal – and just as rewarding! So, grab your chopsticks and dive into Pho Sho at Red Dog Casino. It's time to win big while enjoying the flavors of Asia!
The Wonders of the Asian Markets 
Pho Sho by Betsoft immerses players in the lively ambiance of an Asian market through its captivating graphics and design. The backdrop features iconic Asian elements such as swaying Chinese paper lanterns and rustic straw hats, instantly transporting players to this vibrant setting. 
The game's symbols are a visual delight, with steaming bowls of pho, fresh leeks, zesty lemons, fiery peppers, and succulent cuts of meat intricately designed and bursting with vivid colors. These symbols not only align with the Asian food theme but also elevate the overall gaming experience. 
Pho Sho excels in creating a visually stunning and immersive atmosphere that complements its gameplay perfectly. Whether you're a fan of Asian cuisine or appreciate exceptional artwork, the game's graphics and design will captivate your senses, making every spin a delightful visual treat. 
It's Time to Get Cooking
If you have made it this far in our Pho Sho slot review, you already know it's a 5 by 4 slot sporting 20 paylines. You should know that you can play Pho Sho online slot for free, and we are not talking about the Free Games special feature here. If you don't feel like spending any cash on the game before you get a proper taste of what it offers, you can simply use the free demo mode the developer provides. If you find it spicy enough, you can seamlessly transfer to playing Pho Sho for real money with a few clicks on the menu. 
Pho Sho also comes with a side of special features. The bowls of the eponymous Pho act as Scatters. You will activate the Free Spins mode if you get 3 or more on! MNore Scatters means more Free Games: 
3 Scatters will get you 5 Free Games; 
4 Scatters will get you 7 Free Games; 
5 Scatters will get you 9 Free Games. 
The Wild symbols are highly valuable and can replace other symbols besides
Scatters and bonus coins. Getting 6 or more bonus symbols will start the Hold and Win bonus with prizes ranging between 2 and 1,000 coins! After triggering the feature, the symbols responsible for doing so are locked in place for future spins. Each new Bonus Symbol you land is locked automatically, setting your free respins to 3. It is possible to trigger Free Spins and Hold and Win features simultaneously.
FAQ 
Are there any regional or age restrictions for Pho Sho at Red Dog Casino? 
Pho Sho at Red Dog Casino is accessible without age restrictions and is available for players worldwide. You can enjoy the game from any region where you can access the casino.
Does Pho Sho support mobile play? 
Yes, you can savor the flavors of Pho Sho on your mobile device for fun without downloading an app. Whether you're an Android or iOS user, you can enjoy this delectable slot game on the go, ensuring that you never miss a spin of the reels, no matter where you are.
What are the best-paying symbols in the game? 
You can find the payables and in-depth descriptions for all the special features in the game's menu. That aside, you should be on the hint for the Wilds, Ramen, and meat symbols as they offer the best rewards.
Final Thoughts 
Pho Sho slots at Red Dog Casino deliver a delectable fusion of Asian cuisine and thrilling gameplay. With its 5x4 grid, 20 fixed paylines, and an array of mouthwatering symbols, this slot offers a culinary adventure like no other. But it's not just about aesthetics; Pho Sho serves up a banquet of special features, including Wilds, Scatters, and the enticing Free Games. The ability to earn bonus coins and buy additional Free Games adds an extra layer of excitement to the gameplay. Whether you're a fan of Asian cuisine or simply seeking a visually stunning slot experience, Pho Sho has it all. So, why wait?