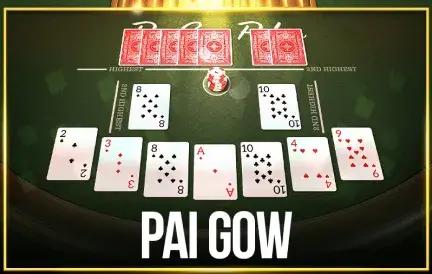 Steeped in ancient Chinese history, Pai Gow is a strategic card game that offers a refreshing change from the typical casino fare. Nucleus, with its reputation for delivering engaging games, brings a modern spin to this traditional game with its rendition of Pai Gow, ensuring players are treated to a delightful and authentic experience.
Pai Gow is all about creating two hands from seven cards - a five-card hand and a two-card hand, with the ultimate goal being to beat both of the dealer's hands. Nucleus' version remains true to this essence, but with enhanced graphics, sound quality, and gameplay mechanics that are tailored for both newbies and seasoned players.
Distinctive Features of Pai Gow by Nucleus:
Stellar Graphics: Dive deep into ancient China with every hand, thanks to detailed and immersive graphics.
Strategy-Driven Gameplay: Allows players to really think and refine their game strategy.
Smooth User Experience: Effortless game navigation, ensuring every hand dealt is a pleasurable experience.
Red Dog Casino, as always, stands out as the perfect platform for this game. Their commitment to providing top-tier gaming encounters ensures that Pai Gow by Nucleus is presented in its best light, complete with seamless gameplay and robust security measures.
In conclusion, Pai Gow by Nucleus isn't just a game; it's a cultural journey. One where strategy meets luck, and where ancient traditions blend seamlessly with modern gaming technology. At Red Dog Casino, this game finds a fitting home, promising players hours of strategic fun, coupled with the thrill that only a game like Pai Gow can offer. Ready to embark on this Eastern adventure? Deal the cards and let the game begin!