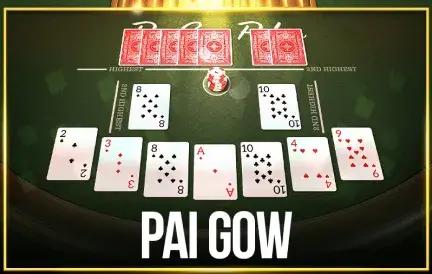 Ancient China birthed many treasures, but few are as captivating in the gaming world as Pai Gow. Betsoft, renowned for its gaming innovations, offers a modern spin on this classic, ensuring players both new and experienced are in for a treat.
Upon launching Pai Gow at Red Dog Casino, one is instantly met with a blend of the traditional and contemporary. Betsoft ensures a rich cultural experience while incorporating the fluidity and responsiveness that modern gamers crave.
Distinct Features of Betsoft's Pai Gow:
Authentic Ambience: The game design reflects the rich heritage of Pai Gow, ensuring players feel transported to an ancient Chinese gaming table.
Simplified User Interface: For those new to Pai Gow, the game offers an intuitive design, making it easy to understand and play.
Strategy Assistance: This version provides hints and strategies, bridging the gap between novices and experienced players.
Immersive Soundtrack: The gentle, traditional tunes in the backdrop enhance the gameplay, making the experience more immersive.
Red Dog Casino, with its commitment to quality gaming, makes the perfect platform for this Pai Gow version. The seamless integration of the game, combined with the casino's top-notch security measures, ensures players can enjoy Pai Gow without a hitch.
In conclusion, Betsoft's rendition of Pai Gow is more than just a game; it's a journey back in time, filled with strategy, chance, and excitement. The blend of ancient aesthetics with modern gameplay mechanics offers something unique for all types of players. If you're looking to indulge in an authentic gaming experience or wish to try something different from the usual casino offerings, Pai Gow at Red Dog Casino is the game to explore. Dive in today and let the tiles decide your fate!