Paco and the Popping Peppers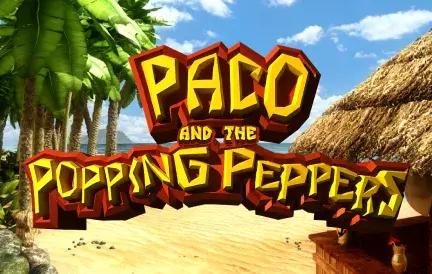 Spicing up the roster of online casino games, Paco and the Popping Peppers brings a burst of flavor and fun to the virtual gaming scene. Presented with flair at Red Dog Casino, this slot machine takes players on a fiesta-filled journey to a lively Mexican town, where Paco, with his popping peppers, promises sizzling rewards and vibrant gameplay.
From the moment it loads, Paco and the Popping Peppers enchants with its lively visuals. The array of animated peppers, each with its own quirky expression, alongside the charismatic Paco, ensures a visual feast that's both entertaining and engaging.
Notable features of Paco and the Popping Peppers:
Vibrant Artwork: The game bursts with color, reflecting the lively spirit of a Mexican fiesta in every pixel.
Upbeat Soundtrack: With foot-tapping mariachi tunes, the audio perfectly complements the game's festive vibe.
Innovative Gameplay Mechanics: The 'popping' feature, where winning symbols burst and new ones fall into place, offers continuous chances for wins.
Expansive Bet Range: Catering to both casual players and seasoned gamblers, the slot offers a betting range that suits all.
Diving deeper into the gameplay of Paco and the Popping Peppers, it's clear that the slot machine isn't just about aesthetics. Its unique popping mechanism coupled with bonus rounds brings a fresh twist to traditional slot play, ensuring players remain glued to their screens in anticipation.
To conclude, Paco and the Popping Peppers is a testament to Red Dog Casino's dedication to crafting unparalleled gaming experiences. If you're looking for a blend of culture, innovation, and the thrill of chance, this slot machine is your ticket to a festive gaming fiesta.