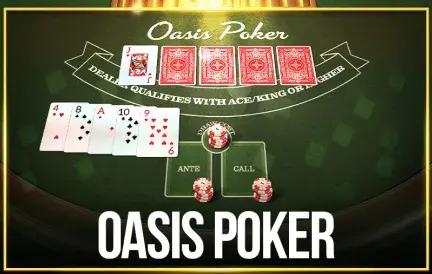 Within the sphere of casino card games, Oasis Poker has carved its niche, standing out with its unique set of rules and potential for strategic gameplay. Betsoft, a name synonymous with high-quality gaming solutions, has delivered a masterstroke with its rendition of Oasis Poker, blending classic rules with state-of-the-art design and functionality.
Red Dog Casino, a prime destination for avid casino enthusiasts, proudly showcases Betsoft's Oasis Poker. Players are welcomed into a realm of verdant green tables, crisply designed cards, and an intuitive user interface. The ambiance transports players to an oasis of entertainment, where every hand dealt promises a wave of excitement.
Key Highlights of Betsoft's Oasis Poker:
Engaging Strategy: Unlike some card games, Oasis Poker allows players to exchange cards before the final bet, adding layers to the strategy.
Stunning Visuals: Betsoft ensures a feast for the eyes with high-definition graphics and smooth animations.
Fair Play: Transparent dealing and shuffling mechanisms instill trust and fairness.
User-Friendly Interface: Players, whether novices or veterans, will find the controls intuitive and easy to navigate.
Red Dog Casino enhances the overall experience of playing Oasis Poker by ensuring seamless gameplay. Its robust platform guarantees quick load times, uninterrupted play, and a safe environment for placing bets. Plus, with 24/7 customer support, players can focus entirely on the game, knowing any concerns will be promptly addressed.
To sum it up, Oasis Poker by Betsoft is a refreshing take on traditional poker games. Its unique gameplay mechanics offer both challenge and engagement, ensuring players are on the edge of their seats with every card dealt. And when such a game finds a home at a trusted venue like Red Dog Casino, it's a match made in gaming heaven. Ready to dive into this oasis? The cards are shuffled, and the table awaits!