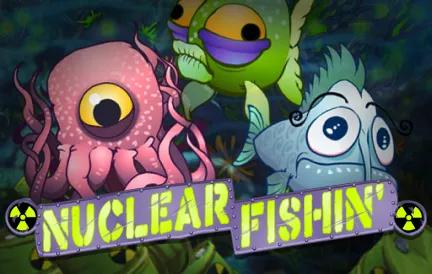 What happens if some uranium is added to the world's fish supply? Nuclear Fishin' by Rival Gamis is what you get! It is a crazy five-reel slot machine created for you to dive deep into the polluted waters but get up only with rich nuclear treasures!
Playing the Nuclear Fishin' slots is indeed profitable. Yes, there is no progressive jackpot available, but as there is plenty of fish in the sea, there are plenty of bonus features and special symbols triggering winning combinations. You can earn a lot of money with Scatter winnings, bonus barrels, the Going Nuclear cannot Lose Bonus Round and free spins. Read the full Nuclear Fishin' slot review to get to know all the benefits.  
Graphics & Design   
The opening to the Nuclear Fishin' slot machine game is incredible in three dimensions. You can skip the introduction, but because it provides an overview of the game, we advise that you watch it. Excellent graphics are also worth your time. 
Every player can play Nuclear Fishin' for real money online with no download for as low as one penny, but the joy you'll get from the game is worth each of it. You can continue to bet one penny per spin or gradually or quickly increase your bets. 
The three-eyed puffer fish, one-eyed octopuses, barrels of radioactive waste that have been spilled, crabs that are being snapped up, the tail of a jellyfish, nuclear missiles, the diver, and a lionfish are the symbols that you will see on the reels when playing Nuclear Fishin' slots. All of this will immerse you into the radioactive underwater theme of the game from the first spin you make, so don't miss a chance to play a role in resolving a pollution problem while winnings some money!  
Core Gameplay     
There are several one-eyed octopuses down there in the depths among the discarded barrels of nuclear waste, in addition to the three-eyed puffer fish that we have already described. The good news is that saving them and all the other animals will earn you prizes. 
All you have to do to earn a payout in this entertaining slot game's 5 reels and 25 paylines is line up three to five matching symbols. All the sea creatures perform humorous mutant animations to celebrate winnings. For example, you can earn up to 65x and 35x your line bet for catching crabs and one-eyed octopuses. While Puffer Fish wins blow most other sea animals out of the water with up to 250x your line-bet, there is a pleasant sting in the tail of the jellyfish as well with wins up to 100x your line-bet. With prizes of up to 400x, Lion Fish, however, roar a little louder, and the 750x your line bet for discovering Nuclear Missiles blasts the competition away. The Expanding Wild Diver, who can act as a substitute to create a ton of marine creature combos, can also aid in generating all these reward lines.  
In-Game Extras     
Now, let's dive deeper into the unique features and what they can bring you. The Seahorses are the most crucial marine creatures to find, as three or more of them will offer you a scatter win of up to 25 times your total stake and 12 free spins, during which all winning combinations, including a Wild Diver, will be paid at double the usual rate. 
You can also activate the Bonus Barrels during your Free Spins, which requires you to catch as many of the falling nuclear waste barrels into the sea as possible. The more fish you catch, the more you win, and you'll also be helping to save marine life. 
When three or more Seahorses show up during your free spins, the Going Nuclear Can't Lose Super Round will also start. During this round, you'll get two spins when reel 1 is entirely wild, and all rewards are tripled. 
You can choose to play 1 to 25 paylines on any spin, so your effort to keep the earth green doesn't have to be expensive. Then, all you have to do is combine 1 to 10 coins with coin values ranging from 0.01 to 0.25 to place matching line bets. As a result, you can wager as little as 0.25 coins per spin or as much as 62.5 coins per spin to play all 25 lines. 
FAQ     
Is Nuclear Fishin' mobile-friendly?     
Play and win with any mobile device without losing the game quality or benefits available.    
What is the Nuclear Fishin' RTP rate?     
The Nuclear Fishin' game RTP rate is 95.21%.     
Can I play Nuclear Fishin' online slot for free?             
Yes, using a demo version of this slot game. But remember that in the instant play mode, you play just for fun, without winning real money.  
Bottom Line     
Nuclear Fishin' at Red Dog Casino will tell you what happens when radioactive waste is dumped into the ocean if you've ever wanted to know. This slot machine obviously has plenty to offer, and it deserves your attention since, if you're lucky enough to catch it, it might reward you with big prizes or even a jackpot.