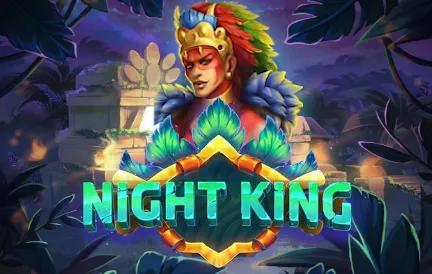 Embark on an epic adventure through the ancient Mayan civilization in the captivating online slot, an entertaining creation by the renowned software provider DeiceLab. Immerse yourself in the mysteries of the Mayan culture as you explore the lush jungles, uncover hidden treasures, and connect with the mystical spirits of this fascinating era. In this Night King slot review, we will dive into the mesmerizing visuals, engaging gameplay, and thrilling features that make Night King a standout among adventure-themed slot games. Get ready to unlock the secrets of the ancient and unknown world as we venture into a realm of wonder and enchantment.
The slot game has a Mayan theme and includes amulets and symbols:
a feathered crown;
a necklace;
a spear;
a small sword. 
Night King has visually appealing graphics and animations to fully immerse players in the Mayan era. There are 243 ways to win in the game's regular 5x3 reel design. The minimum wager per spin is €0.2, and the maximum bet is €100. The RTP (return to player) of the game is 96.7%. Expanding Wild and the cash prize on the reels are just two of the primary elements of Night King at Red Dog Casino. Overall, Night King provides players with a fun and exciting gaming experience with the possibility to win significant rewards thanks to its straightforward features and bonuses.
Aristocracy of the Night Has to Represent 
DeiceLab has crafted a visual masterpiece with the Night King slot machine, bringing the ancient civilization to life with stunning and immersive graphics. The backdrop showcases a lush, verdant jungle with ancient temples and pyramids, basking in the light of torches shrouded by night. Symbols on the reels depict sacred artifacts, mysterious idols, and iconic Mayan symbols, each intricately designed to provide an authentic experience.
The animations are top-notch, with symbols coming to life with every winning combination. The Mayan idols animate in a mesmerizing dance, celebrating your victories and contributing to the game's immersive atmosphere. The vibrant color palette perfectly complements the theme, while the soundtrack elevates the gameplay experience, transporting players to a bygone age.
How to Become a Worthy Ruler of the Jungles and Pyramids 
Let's start with some simpler concepts you may have seen in other modern slots. Any reel may receive a scatter, which pays out a random prize between X1 and X10 of the total wagers. When you land a Wild, it can substitute any symbol other than Scatter. Also worth mentioning is that the game has an astounding 243 paylines. 
Now on to more nuanced features, my liege. The Wild symbol multiplies each time it appears on reels 2, 3, 4, and 5. Wilds can cover up to 4 reels, significantly increasing your winnings. It is known as Expanding Wilds. A cash prize is guaranteed for Scatter in any position. Next, whenever a Scatter symbol appears on the reels, you are awarded a random cash payout with a potential multiplier of up to 10x for payline winners. This, in turn, is called Mystery Scatters.
FAQ 
Can I play the Spell of Night King slots on my mobile device? 
Red Dog Casino only offers you the highest caliber enjoyment. Thus, all of our games are meticulously designed and optimized. The ability to play games directly in your mobile browser means that all games operate smoothly on portable devices of all types and don't even need a specialized app.
Does Red Dog Casino allow its patrons to play Night King online slot for free? 
The game's customary free demo practice mode is absent from the title. However, rewarding gameplay, abundant chances to massively increase your wager, and simply large payouts more than make up for that provide you with another reason to play Night King for fun and real money.
What standout features can I expect from Night King by DiceLab? 
Mystery Scatters and Expanding Wilds are at your service.
Become a Part of the Tale 
Night King by DeiceLab is a hauntingly beautiful online slot that captures the essence of adventure and fantasy. With its captivating visuals, gripping gameplay, and thrilling features like Scatters, Wilds, Mystery Scatters, and Expanding Wilds, players are in for an immersive and chilling adventure. The mysterious and captivating atmosphere and the chance to win impressive rewards make Night King a standout choice for those seeking a unique and thrilling slot experience.
If you're brave enough to face the Night King, head over to Red Dog Casino and prepare to seek your fortune in the land of dusk. Embark on this spine-tingling journey today and witness the magic of DeiceLab's Night King slots. Are you up for the challenge?