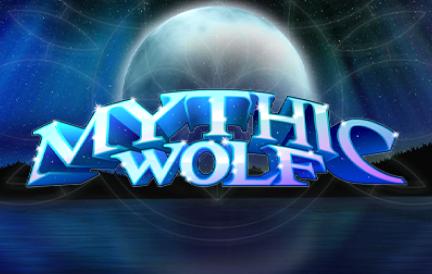 Ever since the meeting of man with the wolf, the fanged, furry creature has always been a worshipped symbol of mystery and some unreachable secret. That's why this time, Rival comes with another fantastic release to pour some light of clarity and finally find the answer, what is so special about this animal? Behold the Mythic Wolf! 
This banger is a 5x3 format slot game with 50 paylines, and as derived from its name, wolves are the main pay symbols, and there are 3 different types of them. In addition, the moon, a silver coin, and a diamond are among the other valuable pay symbols; more information on this topic will be discussed in this Mythic Wolf slot review a little bit later. 
Graphics & Design
This game is quite an adventure! Mythic Wolf's theme perfectly encompasses the title, transporting a player to a mysterious realm of murky waters, nighttime forest, treasures, and wolves howling at the full moon, creating a strong and precise impression. The game is done in a rather dark color palette and features soothing yet concentrating background music which is very pleasant to experience at night. When you click on the spin button, the sound of winter wind will appear, immersing the player into the thrilling atmosphere of the game even deeper. 
Core Gameplay & In-game Extras
Mythic Wolf by Rival is loaded with features that are sure to please slot players. For example, when the Running Wolf Wild symbol appears, it increases the number of winning lines by five. Additionally, this Wild symbol completes a winning line by replacing other symbols whenever possible. 
When you hit 3 or more Magic Feather Scatter symbols in the Mythic Wolf Super Round, you'll receive a set of Free Spins. 7 Free Spins are awarded after 3, 15 Free Spins after 4, and 15 Free Spins after 5. Thanks to that Running Wolf Wild symbol, a winning line payout during the Mythic Wolf Super Round can increase up to 10 times! The Wolf Wins symbols, which appear randomly and offer larger payouts than in the regular game, are triggered more often. 
Moreover, the Lunar Phase Bonus Round is activated during the Mythic Wolf slots Super Round when you land 3 or more bonus Lunar Dice symbols. Choose 3 Lunar Phases to match the dice to increase your chances of winning. 
So, as you can tell, this slot machine has plenty of different ways to cash in big and collect all those tempting treasures!
FAQ
Can I play the Mythic Wolf slot game using my smartphone?
Yes, certainly! The Red Dog Casino mobile app suits the better part of iOS and Android smartphones, providing a seamless transition between them so you can enjoy playing Mythic Wolf at Red Dog Casino whenever and wherever you want.
Is there an opportunity to play Mythic Wolf online slot for free?
You bet! All the slots presented at Red Dog Casino, including Mythic Wolf, feature a free demo version. In order to try this slot machine for fun, before you decide to play Mythic Wolf for real money, you need to log out of your account and press the "Practice" button that appears when you hover your mouse over the game icon.
Is Red Dog Casino safe?
Red Dog Casino uses the most recent technologies to secure your safety and privacy, so playing here is entirely risk-free. 
Conclusion
Summarizing everything mentioned above, we can say that this slot machine truly deserves your attention. The game features exceptional graphics, pleasant system sounds, a unique, mysterious atmosphere, and plenty of ways to help you win! 
It doesn't matter how skilled you are, as this game perfectly fits players of any level and can grant an unforgettable gambling experience and fill your time with pleasant emotions and big bountiful wins. Maybe, try the demo version first, but we assure you it won't be enough and as satisfying as playing the full mode. 
Enjoy!