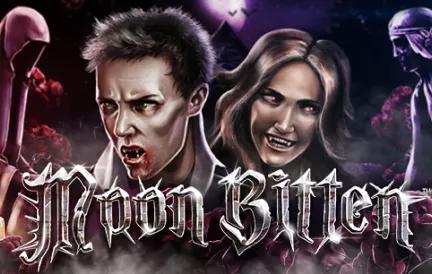 If you've ever been fascinated by dark and mysterious themes, Moon Bitten is a tailor-made slot for you. With this slot, trust the Nuclear Gaming developers to provide you with the ultimate spine-tingling experience as you dive deeper and deeper into the game.   
This slot machine is a video slot with a classic 5-reel, 20-pay line layout, making it accessible to players of all levels. The gameplay is smooth and user-friendly, with intuitive controls that allow you to adjust your bet size and spin the reels effortlessly.
The multi-genre blend of this slot combines horror with thrill with the chance to win big in a world where every spin could lead to unimaginable treasures. So, learn how to play this game by reading this Moon Bitten slot review below.  
Design & Theme of Moon Bitten Slot
The Moon Bitten slot game boasts a visually stunning design that immediately sets the tone for an otherworldly experience. This game revolves around the theme of the moon and all the mysterious creatures that come to life under its silvery glow. 
The backdrop depicts a moonlit forest shrouded in an eerie yet enticing ambiance. On it, a bloody reel board is displayed to capture the fallen symbols. With captivating graphics, immersive gameplay, and the promise of hidden treasures, this slot will get the player hooked in no time. 
Reel layout and Paylines
Like all the standard slot layouts, Moon Bitten by Nuclear Gaming is also developed on a 6x3 reel grid. With this layout, the winning combinations form up to 20 active pay lines for the players.
Gameplay Features of Moon Bitten Slot
This thematic display of this slot contains many typical as well as atypical features, such as: 
Symbols
The symbols in Moon Bitten are not just eye candy; they are the gateway to exciting features and potential wins. Here's a closer look at what the game has to offer:
Standard Symbols: These symbols include vampires, gargoyles, moon, bloodhounds, coffins, crossed, garlic, and Holy water symbols. 
Wild Symbol: The WILD word acts as the wild symbol in Moon Bitten. It can substitute for all other symbols except scatters to create winning combinations.
Double Bat Bonus
The Moon Bitten at Red Dog Casino offers two types of bat symbols: a single bat and a double bat, which is worth twice as much as the single bat. When you have a winning line that includes three single bats and two double bats, you'll score a significant 7x bat win.
These bat symbols become even more rewarding when they land on the reels as part of winning combinations such as:
0.60 for 3 bats;
3 for 5 bats;
6 for 6 bats;
15 for 7 bats;
24 for 9 bats;
300 for 12 bats.
Vampire Free Spins
Vampires are the trigger symbols when it comes to Moon Bitten. When they appear next to a human symbol on the reels, you'll get a cool bonus – 8 free spins! Not only that, but these two symbols will change into special wild symbols and stay put on the reels. These wilds will splatter blood during these free spins, also turning other symbols into wilds.
The best part? You can win more free spins if another vampire symbol appears next to a human symbol while in the free spin mode. However, look closely at reels 2 and 5 because those are the only spots where you'll find vampire symbols. So, keep an eye out for them to keep those free spins coming!
Wild
The blood-spattered wild symbol in this slot can stand in for almost any other symbol, except for the vampire and human free spin symbols. What's interesting is that this wild symbol can also create its wins when it forms these combinations:
If you get 6 blood-spattered wilds, you win 22.50.
With 5 blood-spattered wilds, you'll get 6
When there are 4 blood-spattered wilds, you win 2.25.
And for 3 blood-spattered wilds, you get 0.60.
How to Play Moon Bitten Video Slot?
You can play Moon Bitten online slot for free, just like any standard slot game. Start your game by adjusting your bet and choosing your pay lines. Then, hit the spin button to begin. The betting range is from $0.06 to $150 and lies from 0.01 to 5 per line. 
The game has 30 pay lines, giving you many chances to win by matching three or more symbols on a line. The top-paying symbol is the Wild, offering big rewards for five in a row.
Moon Bitten also has an autoplay feature for a more relaxed gaming experience. You can set the number of spins and loss limit, automatically letting the game spin the reels. 
Moon Bitten Frequently Asked Questions (FAQs)
What is the RTP of the Moon Bitten?
The Return-to-Player rate for Moon Bitten is 96.1%.
How many spins does the autoplay feature give?
The autoplay feature of Moon Bitten allows you to choose any number of spins from 1 to 1000. Choose the number of your liking and play the game for fun anytime!
Can I play the Moon Bitten slot game on mobile?
Yes, you can play Moon Bitten on mobile. This slot also offers a demo version for the players before playing with actual bets. 
Conclusion
All in all, plating Moon Bitten for real money is fun. It immerses players in a world of moonlit magic and nocturnal creatures. Its stunning design, captivating features, and the potential for rewarding wins make it a top choice for slot lovers. Whether you're drawn to the allure of the moon or simply seeking an engaging gaming experience, Moon Bitten is a game that's worth sinking your teeth into. So, spin and let the moonlight guide you to your fortune!