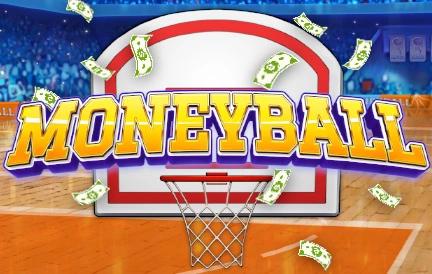 Moneyball by DiceLab is another entry on the Red Dog Casino's list of solid gaming choices. If you are somewhat familiar with sports movies, you can already guess where the name is coming from, though the creators have thrown a curveball in this one as it has nothing to do with baseball but rather heavily leans into a basketball theme. The game itself is a classic 3x3 online slot machine with a couple of curveballs of its own thrown into the mechanics, but more on that later.
Design and Visual
Moneyball at Red Dog Casino takes you to a basketball court with an ongoing game taking place. The first thing we would like to mention is that their game has a lot of "lights" in it, and even though the backgrounds aren't done in colors that are too vibrant and are even comprised of a somewhat muted palette, the game itself registers as very bright. It suits a high-octane adrenaline sports-driven theme but can potentially get rather irritating.
The icons are very juicy and pout right out of the screen at you; the animations are lively and smooth. Two players throwing a basketball are worth a separate mention as they are very well-animated and engaging. Fonts are simple and easy to read, and overall the UI is functional, though it might be too blended even given such an everyday topic as sports. There is an option to turn the music off in the menu, which is always a good thing, as it can get irritating in any game if you play it for a couple of hours straight.
Gameplay and Rules
We don't think we have to explain the basic rules of a slot machine, albeit a digital one, in 2023, so let's get straight into the fun part. First, we'll mention that Moneyball slots is a 5 paylines version of a slot game, and you will have to pick the paylines you want to bet on. The second thing on the menu is the special Basket symbol that can trigger a unique "Guess the winner" mini-game. Each player on the screen will throw a basketball in all the baskets present currently on your screen. You will have to pick a player, place a bet and get double your original wager if your guess was correct. If your player loses, you only lose the extra bet placed on the mini-game. If it's a draw, your bet will be returned. Of course, the mini-game can also be simply declined, but what's the fun in that?
FAQ
Is it possible to play Moneyball for free?
Sure, you can play Moneyball online slot for free; all you have to do is select a demo practice mode in the menu or choose the game from the list without logging into an account. If you'd rather play Moneyball for real money, just proceed as you usually would with any other game.
Is the game supported on mobile devices?
It's not just supported on mobile devices, it is specifically made for them, so it will be as smooth of a portable experience as you will ever get on a mobile platform as a player.
What other games can I play for fun?
If you enjoy this one, we recommend also trying such titles as Jolly Dicres, Sugar cubes, and Zodiac Elements.
Final Thoughts
If you are a sports and casino fan, this is the perfect title for you! Whether you are looking to take a shot at big wins on the court or simply play it for fun, Moneyball is most certainly worth your time.