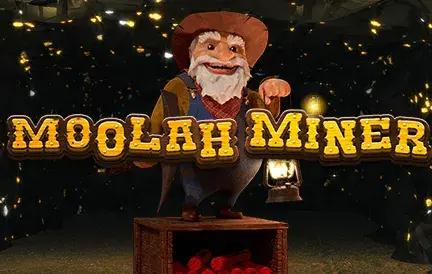 Delve into the depths of Miner Secrets by DiceLab, where a fortune awaits those who dare to venture into the heart of the earth. In this thrilling online slot game, players are transported to an underground world brimming with excitement, adventure, and untold underground riches. Put on your hard hat, grab your pickaxe, and join us on a journey that combines the thrill of gambling with the allure of exploring unknown frontiers.
The game comes with quite a number of special features as well as quality-of-life improvements compared to the majority of other slots out there. If you choose to wield your shovel and chisel, you'll get here: 
96.7% RTP; 
minimum bet of $0.1;
the maximum bet of an astounding $100;
5 by 3 reels;
10 paylines;
bonus game feature;
bonus symbols;
scatter symbols ;
wilds;
lots of spelunking fun.
There might be no Sun, but there's Definitely Light in this Tunnel
As you descend into Miner's Mine, you'll be greeted by an immersive backdrop featuring the dimly lit tunnels of a bustling mine. The game's design pays homage to the gritty perseverance of miners, with detailed graphics that bring this subterranean realm to life. The sound of pickaxes rhythmically striking against rocks and the occasional echoing water drips create an atmosphere that draws you deeper into the gameplay.
Red Dog Casino has ensured that the Miner Secrets online slot is easy to navigate and user-friendly. The intuitive interface lets players focus on the action, providing smooth gameplay and minimal distractions. The game is accessible across various devices, allowing players to carry their mining adventure wherever they go.
The symbols on the reels do not disappoint as well. Besides digging equipment you would expect regularly, you'll also get to win some explosive buck with dynamite even! The gems icons are worth a separate mention as they are just so well done and alluring, waking your inner thirst for precious stones. We always say the shinier, the better.
How to Swing Your Pickaxe for Maximum Efficiency
The core of Miner Secrets lies in its 5-reel, 3-row mechanism, filled with symbols that depict valuable minerals and mining tools. The game's creators have expertly balanced the paylines, making wins frequent enough to keep the excitement flowing without sacrificing the challenge. Players can adjust their bets and choose the number of active paylines, providing flexibility for casual players and high rollers seeking bigger thrills.
Regarding special symbols, the ones you should look out for the most are Scatters, represented by a gem sphere that only appears on reels 1 and 5. If you land those, you'll be rewarded with 15 free games! A supply crate represents the bonus symbol, can be seen on reels 2, 3, and 4, and triggers the Miner bonus feature.
Miner Secrets slot machine is good when it comes to bonuses. Players can uncover hidden bonus gems that trigger exciting features among the glittering symbols on the reels. Whether free spins, multipliers, or interactive mini-games that take you deep into the mine, the bonuses add an extra layer of excitement and potential big wins to the gameplay.
FAQ
Why is Miner Secrets worth my time more than other online slots on your list?
With captivating graphics, rewarding bonuses, and a user-friendly interface, the game offers thrilling gameplay for casual players and high rollers. It has a great design and many gameplay features, setting it apart from the more conventional online slots, ironically giving players a breath of fresh air in a dungeon setting.
Can I play the game on my mobile phone or a tablet?
Miner Secrets slots are available on all modern devices provided you have the latest version of OS installed and your respective browser is up to date. You don't need a dedicated app and can run and enjoy it directly in your browser!
I want to play Miner Secrets online slot for free. Is there a way?
The only way to play Miner Secrets for free is to enjoy the free spins and hope to get more.
Our Opinion
Miner Secrets at Red Dog Casino is a gem among online slot games, offering an immersive mining theme, rewarding and numerous gameplay mechanics, and the tantalizing possibility of hitting the massive jackpot. Red Dog has struck gold with this enticing slot, making it a top choice for players seeking a thrilling and potentially lucrative gaming experience. Join the miners' ranks, spin the reels, and uncover the hidden secrets of the underground to claim your share of the treasures!