Miles Bellhouse and the Gears of Time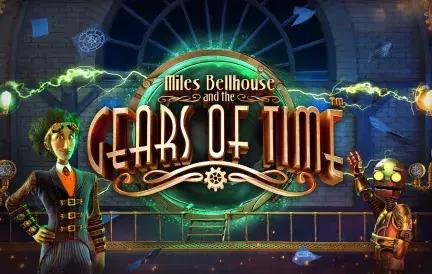 Dive into a world where time travel isn't just possible; it's the crux of the game. Miles Bellhouse and the Gears of Time is a slot machine that takes players on a whirlwind journey through different epochs, all the while offering opportunities for timeless wins.
Red Dog Casino, with its penchant for hosting innovative and thrilling games, proudly features Miles Bellhouse and the Gears of Time in its collection. As soon as players embark on this game, they are greeted with steampunk-inspired visuals, intricate gear mechanisms, and the genius inventor himself, Miles Bellhouse. The attention to detail is commendable, and the animations are fluid, making every spin a visual treat.
However, it's not just the graphics that make this slot machine stand out. The gameplay mechanics are truly ahead of their time, incorporating unique time-travel elements that affect the outcome of spins.
Highlights of Miles Bellhouse and the Gears of Time:
Time-traveling game modes that take players to the Past, Present, and Future, each with its own set of rewards.
Innovative cascading reels feature, providing multiple winning opportunities in a single spin.
The 'Chrono Reels Bonus', a special round where the gears align for massive multipliers.
In a nutshell, Miles Bellhouse and the Gears of Time is a masterful blend of innovative gameplay and captivating visuals. Red Dog Casino, by hosting this gem, continues to show its commitment to delivering unparalleled gaming experiences. For those players yearning for a game that's not just about spinning reels, but about embarking on an adventure that transcends time, this is the perfect pick. Join Miles on his time-bending escapades and stand a chance to pocket rewards that are truly timeless!