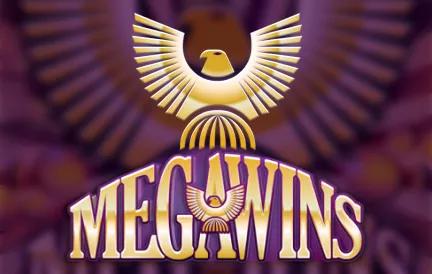 When a gaming provider aims to recreate some of the real-life chrome-and-plastic slots, they often trade the technical and visual complexity for realism. The first time you see the stylized logo of MegaWins by Rival Gaming, you are bound to draw a comparison between the game's imagery and some golden-age Vegas casinos - particularly, Luxor. Let's take a quick look at the specs of the slot game to see whether they also follow the mechanics of vintage fruit machines:
Medium volatility;
RTP of about 94,7%
paylines across 3 reels;
Top award of 5000 coins with an x3 multiplier.
As one can see, MegaWins meticulously recreates the maths of the analogue slot machine, and deliberately steers clear of any extras that might dilute the experience. So how does one get the most out of the game? Read more of this MegaWins slot review to find out!
Graphics & Style
Moderation is paramount when you want to stay true to your roots, and Rival Gaming did exactly that while designing MegaWins. The focal point of the visuals is undoubtedly the Golden Eagle, serving both as an element of the logo and the highest-paying symbol on the reels. Just like a seasoned player would expect, the rest of the symbols are the good old 'bar' signs, sevens and cherries. Background music is represented by an unobtrusive, but somewhat unremarkable stock tune - however the authentic, punchy and vibrant slot sound effects make up for it fully.
Basic Gameplay
The preparations one must make before setting the reels spinning consist of three stages: first, you must adjust the number of paylines, then decide on the number of coins you bet on each, and, finally, set the value represented by each coin. If you're feeling lucky, you can always just press the 'Bet Max' button, and auto-play with a predetermined number of cycles is also an option.
Advanced Gameplay
Increasing your chances to win big at MegaWins requires being familiar with the game's paytable. We've always found Rival reference charts to be slightly unintuitive, so here's a cheat sheet you can turn to whenever the need arises:
3x yellow Sevens - up to 300 coins (the x2 or x3 multiplier is applied depending on the number of coins you wagered);
3x violet Sevens - up to 240 coins;
3x red Bar sign - up to 90 coins;
3x emerald Bar sign - up to 60 coins;
3x turquoise Bar sign - up to 30 coins;
3x Cherry - up to 15 coins;
2x Cherry - up to 6 coins;
3x random Sevens - up to 21 coins;
3x random Bar sign - up to 9 coins;
FAQ
How do I become eligible for playing MegaWins for real money?
The only thing you need is an active Red Dog account with the minimum amount of cash deposited. Please check our Banking section for further reference.
How do I play MegaWins slots online for free?
If you already have an account, you'll have to log out and refresh the page to practice in the demo mode. Playing for fun is available by default for the guests of our website.
Where do I download the portable version of MegaWins slots?
MegaWins, like all our other games, is very undemanding in terms of hardware power, which means there's no need to download it onto your smartphone - just go to our website in your mobile browser.
Verdict
MegaWins is a neat little game that delivers exactly what it promises, and doesn't try to be what it isn't. This type of slots is arguably the optimal beginner's choice, since there aren't too many variables to keep track of. If you aren't in the mood for animation-heavy slots that go hard on the eyes, definitely try MegaWins at Red Dog Casino!