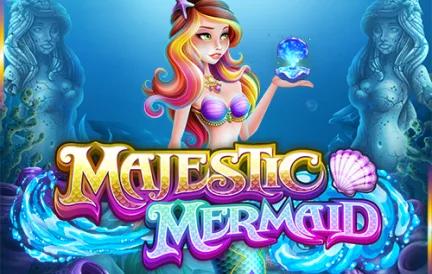 Deep beneath the ocean's shimmering surface lies an enchanting realm waiting for explorers like you. Majestic Mermaid by Rival is different from your everyday slot game. It's a place where mythical mermaids sing their enchanting songs, age-old treasures are tucked away in coral alcoves, and every twist and turn introduces you to the mesmerizing wonders of the deep.
Every spin in this game is a dive into an abyss of possibilities. The vibrant sea creatures, the melodic soundtrack, and the sparkling graphics promise a full experience, or better to say, a whole underwater escapade! 
So, strap on your diving gear and plunge into a world where legends come alive and fortunes await the brave. But first, read our Majestic Mermaid slot review until the end to be wholly prepared and informed! 
Main Theme & Visual Characteristics 
When you launch the game, you're enveloped in an oceanic world that feels dreamy yet vividly real. The game immerses players in a luminous underwater atmosphere, complete with twin mermaid statues that seem to guard an age-old secret and transparent reels that float effortlessly between them — a design that feels both ethereal and inviting.
Every animation in this game has been designed with precision and flair. The game's animations flow seamlessly, breathing life into the reels with each spin, making the ocean floor teem with thrills. The backdrop, adorned with beautiful corals and seaweeds, sets the stage for an underwater ballet of colors.
The game's color palette, predominantly drenched in light blues and enchanting greens, paints a serene underwater scene, providing the perfect canvas for the vibrant hues of marine life to come alive. And let's not forget about the symbols. The majestic pearl clams, seahorses, octopuses, playful dolphins, and tranquil turtles — all these details have been crafted with an artist's touch and are waiting for you to come and see! 
Core Mechanics & Special Features 
This game features 1024 active lines, and all victories are multiplied by coins bet per line, except for Scatters. You will win when matching symbols are displayed on an active pay line. The symbols must appear one after another, beginning at the left side. The payout will be determined by how many symbols match and their values. And now, let's proceed to the most intriguing part — the special features and symbols!
Wild Symbol: Our old friend will replace any other symbols to form a winning line, except for Scatter symbols. When applicable, only the highest multiplier in a win line is applied. 
Scatter Symbol: These are not required to fall on a payline; in this game, they trigger the Free Games feature. Landing 3, 4, or 5 will result in 1 Lock & Load Free Spins round. 
Lock & Load Free Games feature: Landing three or more Scatter symbols will trigger the feature, and 3 re-spins will be awarded. Prize symbols or Power-Up symbol that lands will stick in place and reset the remaining re-spins to 3. The round ends when 3 re-spins in the row have been played without a Prize or Power-Up symbol landing on the reels or when every position on the reels is filled with a symbol. 
FAQ 
Is Majestic Mermaid mobile-friendly? 
Of course! You can plunge into the depths of Majestic Mermaid at Red Dog Casino right from your mobile device. Thanks to our streamlined mobile platform, the game's wonders are available to you at any moment, no matter your location. Whether you're relaxed at home or out and about, the magic of Majestic Mermaid is merely a tap away! 
Can I play Majestic Mermaid without risking real money? 
Certainly! You can play Majestic Mermaid online slot for free using the demo mode. It gives you a chance to get to know the game and enjoy it purely for fun. And when you're ready to up the stakes and feel the rush, you can shift to playing Majestic Mermaid for real money for a more thrilling experience! 
Is Red Dog Casino safe? 
At Red Dog Casino, we place your protection at the forefront. Utilizing advanced tech and rigorous safeguards, we shield your personal and financial data and create a dependable gaming arena. Enjoy your play, assured of your safety and peace of mind. 
Summary 
Majestic Mermaid slots welcome players with open arms into the vibrant underwater kingdom, where the captivating stories of mermaids intertwine with the allure of hidden sea treasures. The game's visual design is a tribute to the mysteries and beauty of the deep, with every shade and shimmer echoing tales as ancient as the sea itself.
As for the gameplay, it's an engaging dance of chance and strategy, keeping players on the edge of their seats, anticipating the next big catch. Each spin holds a promise, a new chapter in this aquatic narrative that's both thrilling and immersive.
Whether you're a seasoned player or a newcomer to the world of slots, this slot machine promises an experience that's as refreshing as a jump into clear blue waters. Embark on this oceanic journey and let the magic and mystery of the underwater world wrap around you like a comforting current!