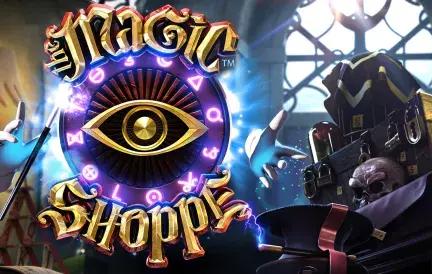 You've got the magic in you! And it's time to go into the Magic Shoppe slot game and get a magic wand to finally cast yourself a jackpot. This game by Betsoft offers a 5-reel, 25-fixed payline magic experience that might make your head spin (in a good way, of course).
 Ready to explore the magic within you? Read our Magic Shoppe slot review and let the mystery guide you towards wins.
Theme & Design 
Picture this: a dark alley, cobwebs galore, and suddenly, boom! A magic shop appears out of thin air. Inside, you'll find spell books, magic posters, and symbols that come alive on the reels. It's like a magic show, but you're the player leaving with the grand prize.
Gameplay Features 
Now, let's talk about the real magic – the gameplay features.  
Sun Free Spin - They are locked in the Sun Box. X3 Sun Boxes trigger 3 Sun Spins, x4 boxes - 6 Spins, and x5 - 12, with a guaranteed win on every spin. 
Moon Free Spins - They are locked in the Moon Box. Land 3, 4, or 5 boxes and trigger 3, 6, or 12 Moon Spins, with a guaranteed win on every spin, too. 
Wild symbols — Substitute for all icons except the Free Spins (Sun and Moon Boxes) and the Magic Wand icons. 
Magic wand - Get 3 or more Magic Wand icons anywhere, and watch as they turn the locked Sun or Moon boxes into extra Wild symbols. It's a wild, wild magic world! 
Double Up Game — Heads or tails, your call! You can select gamble all or gamble 50%, flip a coin, and collect your wins if your guess is correct. 
High-value symbols like skulls, handcuffs, daggers, and silver coins are your ticket to jackpots, with payouts ranging from $1.50 for x3 to $30 for x5.
Winning the Game 
Magic Shoppe isn't just about waving wands and incantations; it's about winning big and winning often. The Wilds can bring you $72 for x5. While landing Moon and Sun Boxes, we give you extra Free Spins to try and hit the jackpot.
FAQ 
How can I start playing Magic Shoppe by Betsoft? 
Easy peasy! Just hop onto the Red Dog Casino website, sign up for an account (it takes less time than casting a spell), and you're ready to dive into the magical world of online slots, including the fantastic Magic Shoppe slot machine.
Can I play Magic Shoppe for real money? 
You can play Magic Shoppe online slot for free in a demo version. However, if you're tired of spinning for fun, the magic game invites you to bet and play with real cash. Deposit, play responsibly, and who knows, you might just walk away with a pocket full of virtual gold coins.
Do you have an app? 
Unfortunately, Red Dog Casino does not have a mobile application. However, it doesn't mean you cannot carry the enchantment of Magic Shoppe slots in your pocket. You can access the game from any of your browsers on your phone or tablet. Simply register at Red Dog and get your portable wizard at your fingertips!
Conclusion 
And there you have it, magical adventurers! The Magic Shoppe at Red Dog Casino is a magical journey filled with fun, excitement, and more wins than you can shake a wand at. Whether you're a casual magician or a seasoned high-roller wizard, this slot has woven a spell that'll keep you coming back for more. So, grab your virtual magic wand, step into the world of wonders, and let the reels do their thing. Get ready to be spellbound – it's showtime!