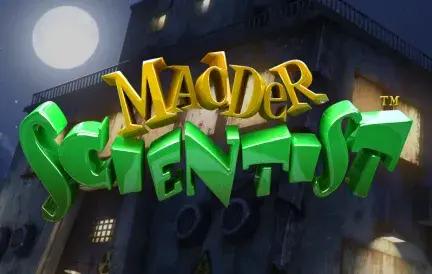 Get ready to dive into the wacky world of Madder Scientist by Betsoft, where science gets a whole lot crazier and reels become your playground. Imagine a slot game that's not just about spinning but taking a wild ride with a 3D mad scientist!
 Madder Scientist is a 30-pay line slot that takes you to create your own science experiments. The Red Dog Casino is your gateway to this kooky lab, where every spin is a chance for pure slot magic. We're not just talking about pretty graphics (though they're awesome) but a whole adventure waiting to unfold.  
 Join us in this Madder Scientist slot review to find out how to make an experiment that blows up in a jackpot. Ready to shake things up and discover the wild side of slot fun? Let's get this crazy party started!  
Theme & Design 
Set in the mad scientist's laboratory, the slot game's layout features a 5-reel, 3-row structure surrounded by pipes, tubes, switches, and chemical jars. The 3D graphics and animations create a visually captivating experience reminiscent of a console game or animated movie.
Gameplay Features 
Madder Scientist at Red Dog Casino introduces various exciting features, including the ability to re-spin individual reels after each spin, a pick-and-click bonus game, and a wild reel respin bonus. The main symbols include chemicals, a rabbit, an assistant, and the mad scientist himself, Dr. Walter Prescott. 
Reel Re-Spins —After each spin, players can choose to re-spin any of the 5 reels for an additional chance to win, with each re-spin incurring additional credits. 
Click Me —Triggered by 3 beaker symbols on reels 1, 3, and 5; this feature allows players to select beakers, revealing prizes such as cash or free spins until the "Collect" option appears. 
Wild Switches — When 3 Switch symbols appear, the Wild Switches feature is activated. A random reel turns wild for a set number of spins, adding an element of unpredictability. 
Chemistry Bonus Round — Activated by 3 Carrot icons, players assist the scientist in creating a concoction tested on the carrot. Choosing chemicals reveals cash prizes, adding a unique twist to the game.
Winning the Game 
The game has a standard slot structure with five reels, three rows, and thirty adjustable paylines. The RTP is 95.18%, and players can bet between $0.01 and $150. The maximum prize is $2,500, and the game offers medium volatility.
FAQ 
How can I play Madder Scientist for real money? 
You can play Madder Scientist online slot for free in a demo version. However, as soon as you're ready to play and win some cash, just make a deposit at Red Dog Casino and dive into the mad scientist's lab with real money bets.
Can I play Madder Scientist on my phone? 
Absolutely! Madder Scientist is mobile-compatible, so whether you're on the go or chilling at home, you can whip out your phone and spin those reels for fun wherever you fancy.
What is the maximum win in Madder Scientist slots? 
The maximum win in Madder Scientist is a cool $2,500. So, if you're aiming for the stars, keep those reels spinning, and you might just hit that jackpot in the maddest way possible!
Conclusion 
Madder Scientist isn't your average slot game—it's a wild ride through a mad scientist's playground, and it's absolutely mind-blowing. From the quirky Pick-and-Click Bonus to the wild and unpredictable Wild Switches and the downright entertaining Chemistry Bonus Round, it's a game that keeps you on your toes.
 So, fellow thrill-seekers, if you're looking for a slot game that's not just about spinning but taking you on a journey where every spin is an adventure, Madder Scientist is the slot machine you need. Get ready to spin, win, and go a little mad—Madder Scientist style!