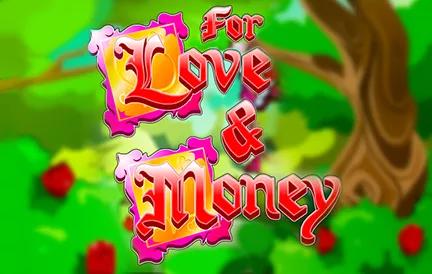 We would like to start this review by saying that Love and Money by Rival Gaming has to be one of the wildest and most original premises, complete with equally bizarre intro animation we have ever seen in an online slot machine game. The setup of the game revolves around a writer looking for inspiration in what looks like a Victorian-era park, struggling to make any progress on his new book. While in there, he witnesses a rather dramatic scene of two gnarly and ghastly crooks attacking a beautiful young lady, which is, in turn, being saved by a barrel-chested hero, who comes to the rescue exactly at the right moment.
Seeing all this play out gives the author enough ideas to continue his work. If we try and apply an effort of titanic proportions to detach ourselves from this fact for a second, Love and Money at Red Dog Casino is a relatively standard modern online slot machine with 15 paylines and a number of bonus features. It offers all the contemporary quality-of-life features we all have come to expect from a similar game by now, complete with autoplay function, an option to play Love and Money online slot for free just for fun or for real money, togglable settings for various technical moments and so on. If this game had your curiosity but now has your full attention and you want to know more, read on!
Presentation
As we have already mentioned above, the game starts with an elaborate cartoon, which we can't bring ourselves to call "a short animation", depicting a scene in the park that inspires a troubled novelist. When it comes to graphics itself and the designs, the game leans very heavily into extreme exaggeration and caricature, which is quite understandable and somewhat expected; taking the whole premise as not embracing campiness and cheesiness of it all would be a most definite detriment to the whole thing. The colors are bright and vibrant, the linework is bold, and everything seems cranked up to 11. Park from the animated intro serves as the backdrop for the game proper. The symbols are just as bold and ridiculous as everything else, including the characters you meet in the animation and loading screen.  
How to Play
Love and Money slots have 15 paylines, 5 reels, and are played with 11 symbols. When matching symbols appear on an active pay line, you will win. The symbols must appear in order, starting on the left. The number of matching symbols and the values listed on this paytable will determine the payout. Except for scatters, all wins are doubled by the number of coins bet per line. 
Besides regular online slot rules, the game includes such features as "Scatter Wins", "Free Spins," and "Wild Symbols". No payline is necessary for scatter symbols to pay out; they can appear anywhere on the screen. The number of active lines will be multiplied by the scatter win amounts. 
Wild symbols can stand in for all other symbols to grant a better combination to the player besides scatters. Getting 3 Free Spin Cupids will get you 10 free spins, an additional x3 multiplier, and a bonus depending on the total number of the symbols you got: 
5 = 10 Free Spins + 75.00 
4 = 10 Free Spins + 2.25 
3 = 10 Free Spins + 1.50 
FAQ
Where can I find values for the in-game symbols on the reels?
All the payment values, bonus features, mechanics, and rules can be found through the "options" or "info" button accessible in the game. It holds extensive information on any aspect of the game.
What is the maximum possible win in Love and Money?
The best possible multiplier in the base game is a solid x5000 which is already good on its own. It is, however, taken one step further by free spin rounds, where you can get as high as x15000 of your original bet if you get lucky!
Does Love and Money run well on mobile phones and tablets?
Rival Gaming is a known software supplier that works with many online casinos and is often chosen because it has top-notch support and quality assurance. It includes portable device support. If your device is technically uncompromised, you are good to go.
Final Thoughts
If you want to experience the madness that is Love and Money for free, Red Dog Casino has the option to play the game in a free practice demo mode. It is worth at least seeing this bizarre creation once for yourself and seeing the reels spin.