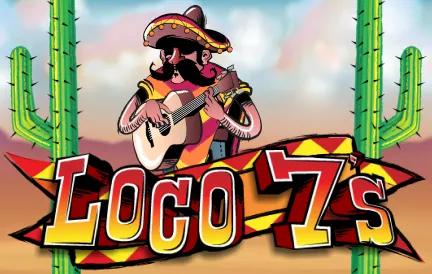 Welcome to the vibrant and colorful world of Mexico, where the sun shines bright and the sounds of the Spanish classical guitar fill the air. In this exciting slot game, you'll encounter all the symbols of Mexico, from the towering cactuses in the desert to the spicy jalapeño peppers that will set your taste buds ablaze. As you spin the reels, you'll feel as though you've been transported to a bustling street market, where the scent of exotic spices and lively music create an atmosphere of celebration.
Loco 7s by Rival is a 3-reel, 1-payline slot machine that will capture your attention from the very first seconds. While this game doesn't have any special features to boast except for the Scatter symbol due to its classical design, it doesn't mean you cannot strike it rich and have an amusing gaming experience. We still find this game attractive and satisfying, and sometimes, it's even better to play something laconic like this slot machine, where you can easily spin the reels and enjoy time playing. A more in-depth look is presented in this Loco 7s slot review below, so make sure to read it till the end and be fully aware of what to expect.
Theme Design
After a quick loading, you realize you stand in the heart of the desert under the gentle evening sun. Three fully transparent reels are placed between two tall cactuses, and on the left side, you can see a Mexican guitarist that will strum some chords for you every time you hit a winning combination. The symbols to be found are single, double, and triple 7s, jalapeño peppers, and bar icons.
When it comes to visuals, you can expect typical Rival graphics. They are well-designed, with a nicely balanced color selection, smooth animations, and a pleasant texture. This combination creates a strong feeling of being right there, and, to ensure the depth of emotion, authentic Mexican tunes will accompany your journey to big generous wins. 
Core Gameplay & In-Game Extras
Don't expect too much from the bonus features in Loco 7s. The game only offers a Scatter symbol that doesn't activate any bonus rounds. Nonetheless, the Scatter does provide a payout even if you land only one or two on the reels, which sets it apart from other symbols. Unfortunately, there are no free spins, multipliers, or wilds to help boost your winnings. 
Since there aren't any extra features, let's talk about symbols and their values. 
Loco 7s slot incorporates classic symbols and those that align with the slot's theme. Each symbol provides a set coin payout depending on your coin count.
The highest-paying symbol is chili. A triple chili symbol will award you 750, 1,500, and 2,500 coins when betting one, two, or three coins, respectively. For a double chili, the reward is 200, 400, and 600 coins, while a single chili will earn you 100, 200, and 300 coins. If two single chilis appear, they act as the Scatter and payout four, eight, and 12 coins. Finally, one chili symbol on the reels will get you one, two, and three coins. 
Following the chili, the next high-paying symbol in the Loco 7s slots is the 7s. For landing the triple 7 symbols, players will receive 80, 160, and 240 coins for betting with one, two, and three coin counts, respectively. The double 7 symbol rewards 60, 120, and 180 coins, while the single 7 will pay out 40, 80, and 120 coins, depending on your coin count. Moreover, landing any of the 7 symbols on a single payline will give you a payout of 8, 16, and 24 coins. 
The least valuable symbol is the triple bar, which will grant you a payout of 30, 60, and 90 coins for one, two, and three coin counts correspondingly. The double bar symbol offers a reward of 20, 40, and 60 coins, while the single bar will give you 10, 20, and 30 coins. On top of that, if you manage to land any three bar symbols on a single payline, you'll get 3, 6, and 9 coins. 
FAQ
Can I play Loco 7s online slot for free?
Yes, for sure! If you want to play just for fun to test the surface before placing bets and playing Loco 7s for real money, all you need to do is log out of your account and choose the demo version. Enjoy!
What is the biggest payout in Loco 7s?
The maximum jackpot in this adventurous slot game is $25,000.00.
Can I play Loco 7s at Red Dog Casino with my smartphone? 
Absolutely! We have an outstanding mobile version that you can access from most iOS and Android-run devices. 
Verdict
While Loco 7s doesn't burst with unique features, its simplicity can be a pleasant and relaxing experience after hours of playing complex slot machines. With superb visuals, a groovy soundtrack, and an authentic atmosphere, this game will surely bring you joy, fun, and satisfaction from playing.