Le Chocolatier Video Slot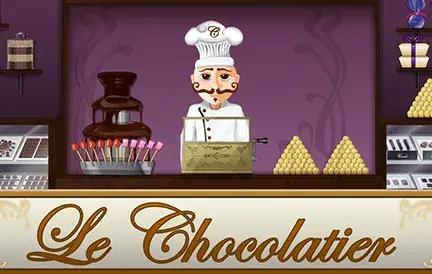 Indulge in the rich and luxurious world of Le Chocolatier, a delectable game that promises to melt in your mouth and not in your hands. Available for play at Red Dog Casino, this slot machine offers a taste of opulence with every spin, ensuring players are in for a treat both visually and rewardingly.
Le Chocolatier is every chocolate lover's fantasy come to life on reels. The graphics, steeped in hues of cocoa and gold, showcase an array of exquisite chocolates, from truffles to pralines, all masterfully crafted by the game's namesake chocolatier. The backdrop is a sophisticated patisserie, complete with glass showcases and ornate chandeliers. Enhancing the ambiance, a jazzy, seductive tune plays in the background, reminiscent of cozy Parisian cafes.
Savor the sumptuous features of Le Chocolatier:
The 'Golden Ganache' scatter symbols, which unlock layers of creamy bonuses.
Wild symbols depicted by decadent dark chocolates, increasing the prospects of rich wins.
Free spins, delivered by a tray of assorted bonbons, promising added layers of indulgence.
The 'Patisserie Prize' bonus game, where every choice is a step closer to a sweet victory.
In terms of gameplay, this slot machine is a dream. It boasts a user-centric design ensuring that both novices and aficionados can enjoy its flavors with ease. With a competitive RTP, Le Chocolatier ensures that players are not only satiated visually but also with the prospects of mouth-watering rewards.
In summary, Le Chocolatier is a sensory delight, seamlessly fusing the artistry of chocolate-making with the exhilaration of slot gaming. For those with a penchant for luxury or simply in search of a unique gaming experience, Le Chocolatier stands unmatched. And the cherry on this cocoa-rich cake? It's exclusive to Red Dog Casino.
So, prepare for a rich, chocolaty adventure, and may your spins be as sweet as the finest Belgian truffle!