La Partage Roulette de Lux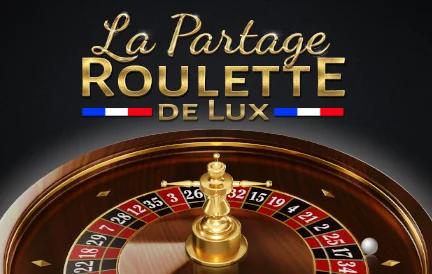 The shimmering world of online casino games is graced with numerous variations of classic games, and roulette stands as a timeless favorite. Elevating this classic experience, DiceLab introduces La Partage Roulette de Lux, a game that combines traditional European roulette rules with the fairness-focused 'La Partage' feature.
La Partage Roulette de Lux is not just another spin on the wheel. It carries the elegant touch suggested by its name, while ensuring players get half of their even-money bets back if the ball lands on zero. DiceLab's rendition ensures that each spin is immersive, thanks to their meticulous design and high-end graphics.
Distinctive Attributes of La Partage Roulette de Lux:
Premium Design: High-definition graphics and smooth animations make every spin a visual treat.
La Partage Rule: Adding a layer of fairness, this rule returns half of even-money bets when the ball hits zero.
User-Centric Interface: Effortless navigation, intuitive bet placements, and a clear view of the wheel and table make the gaming experience seamless.
Red Dog Casino, with its dedication to offering the finest games, makes for an excellent host for La Partage Roulette de Lux. The casino's secure environment, coupled with its responsive design, ensures players get the most out of this luxury roulette experience.
In wrapping up, La Partage Roulette de Lux by DiceLab is more than just a game – it's a statement of elegance and fairness in the casino sphere. With its player-friendly rules and sumptuous design, it offers a roulette experience like no other. When housed on a premium platform like Red Dog Casino, the joy of playing is further magnified. For connoisseurs of roulette who seek a blend of luxury and favorable odds, La Partage Roulette de Lux emerges as an impeccable choice. Step into this world of opulence and let the wheel decide your fortune!