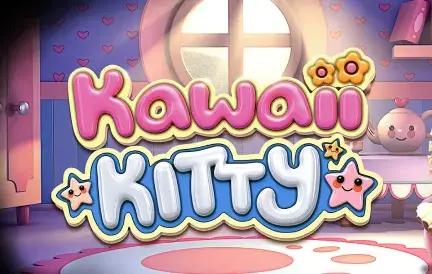 Playing Kawaii Kitty by Betsoft will send you into a charming kitten frenzy. Betsoft has once again produced a stunning slot game that requires no elaborate introductions. Take a peek at the images. They are just amazing. 
You could feel overpowered by staring into those adorably purple eyes. Still, the 5 reels and 10 paylines are so incredibly charming that you'll probably be able to handle the sensory attack in exchange for the jackpot payout. There are more kawaii symbols and charming features; read the following Kawaii Kitty slot review to learn more about them!  
Graphics & Design                      
The symbols used in Kawaii Kitty slots include cats, mice, cat food bowls, brushes, bows, containers of milk, and little snacks. A pleasant, lighthearted soundtrack only heightens the slot's general cuteness. The vivid, bold, and beautifully animated 3D visuals exemplify the slot's overall excellence. 
Kawaii Kitty is undoubtedly an aesthetic-focused online slot machine; otherwise, the developers wouldn't have taken the time and effort to create a kitty you would want to cuddle and adore, only for the visuals to be completely unimpressive.  
It's better to accept that you are going to be a crazy cat purrson since you will be pawing, eating, and purring your way through some increasing wilds and double or nothing features in Kawaii Kitty.
Core Gameplay               
Whether you play Kawaii Kitty online slot for free or for real money, you still need to know the basic rules and core gameplay. It requires a few clicks to begin playing Kawaii Kitty after entering the site:      
check and modify settings after loading;     
review the guidelines for features and symbols;     
choose an appropriate bet, then click the spin button.      
Kawaii Kitty operates solely online. This way, wherever you are at any given time, you may play the game on your preferred web browser. This game doesn't require any further downloads; you only need an active internet connection. Since the game is played online, you may play it on any mobile or tablet device like you would on a desktop or laptop computer, so geography won't be a barrier to your desire to chase a ball of yarn around with your pet. 
Because player bets are so adjustable, the game is quite appealing to all types of players. Players may find the +/- buttons for "Choose Coin" and "Bet Level" at the bottom of the screen. Players can change the intended bet value per coin from a minimum of 0.01 to a maximum of 2 by modifying the coin choices. Players will essentially be able to specify the number of coins wagered each line, ranging from 1 to 10, using the bet level choices. 
The fact that paylines are set to 10 helps players by giving them more chances to win. 
In the lower right corner of the screen, there is also a very handy "Auto Play" option. The feature to automatically spin the reels may be freely activated or removed. This is an excellent choice for players who might need to rest without losing playing momentum.
In-Game Extras            
If you decide to play Kawaii Kitty for real money, you need to learn more details, especially regarding paying symbols, their combinations, and bonus features that can boost your rewards.         
The Kawaii Kitty slot game is packed with unique features and vibrant symbols. It contains five reels with three rows of symbols totaling ten paylines. The minimum bet amount is simply $0.01 per line. A carton of milk (5x=500), a brush (5x=240), a mouse (5x=120), some fish (5x=100), a bow (5x=80), a dish of cat food (5x=50), and a tin of tuna (5x=50) are the seven common symbols that occur in the playing area and their respective bonuses. 
Yarn is another symbol that may be found; it extends and acts as a wild symbol. This helps fulfill any combinations that might be missing by covering the entire reel with wild yarn. You can win more than once on a single spin since any reels not made of wild yarn are re-spun for free after expanding. 
Following a typical winning spin, you can choose to participate in a Double Up game. This lets you wager half or all of the credit you've accrued for that round on a coin toss. In this feature, you double your stake if you correctly estimate the flip. Additionally, Kawaii Kitty offers an autoplay option that lets you ask the game to play for up to 100 spins without interruption. 
FAQ                         
Is Kawaii Kitty at Red Dog Casino mobile-friendly?                         
Yes, Kawaii Kitty can be played on any mobile device, both full and demo versions, just for fun.     
What is the Kawaii Kitty RTP rate?                         
The Kawaii Kitty slot game RTP rate is 95.27%.     
Can I win real money on the Kawaii Kitty slot game?   
Yes, the player has to register an account with Red Dog Casino and then enjoy real money Kawaii Kitty and hit real winnings.   
Bottom Line                         
Although the slot machine's theme is adorable, not every player will find it appealing. However, those interested in it will undoubtedly be given a top-notch slot machine experience that makes it worthwhile to make a few fast spins.