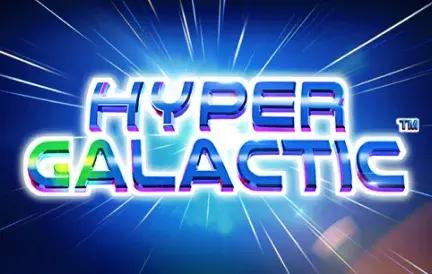 There are many slot games that have taken the theme of going to space. Hyper Galactic by Nucleus Gaming is one such slot game featuring some nice, flashy visuals in the space theme. The game is played on a 5x3 grid with 25 paylines. There aren't too many bonus features, but the ones present can enhance the gameplay experience for the player. To learn more about this fun slot machine by Nucleus Gaming, feel free to read the rest of our Hyper Galactic slot review below.
Hyperspace
As mentioned in the introductory section, the theme of Hyper Galactic slots is outer space. Players can enjoy some fancy visuals while playing this slot game. The symbols are flashy and shiny – they are designed very well. There's no background music as you play Hyper Galactic at Red Dog Casino. It may further enhance the atmosphere for some players and add to the overall feeling of being completely isolated in space. That being said, some other players may prefer to listen to their own music as they play. The symbols that appear on the reels of Hyper Galactic are:
7;
Bell;
Bar;
Cherries;
A-10 cards.
In this regard, Hyper Galactic reminds us very much of a traditional fruit slot game with such symbols usual in this category of slots.
Main Features of Outer Space
There aren't too many bonus features in the Hyper Galactic slot game. The main feature of the game is the Sync Reels feature. This means that during any given spin of the reels, two consecutive reels will be synced. So, the symbols in both of these synced reels will be identical. It will enable the player to get a win much more frequently than average. Moreover, in some cases, more than two reels will get synced. In a best-case scenario for the player, all 5 reels are synced – this guarantees a big payout for the player at the end of the spin.
There's also a Wild symbol in the game. Using this symbol, the player can replace any other symbol in the game if such a change is needed for a win. The Wild symbol can only appear on reels 2, 3, 4, and 5. It will never appear on the first reel.
While the Synced Reels is a major feature that can bring frequent, big wins, we still think it would have been better if there were additional bonus features that players could trigger when playing Hyper Galactic for real money.
Delve Into Space and Find Riches
The goal of every player playing this game is to win real money. As far as slot games go, Hyper Galactic is a simple game. All the player needs to do is select the wager size and spin the reels. The wagers vary between 0.50-125 coins, which is more than enough of a discrepancy to cover most players' needs regarding online slots.
The biggest win in the slot is set at 12,500x of the wager for the round. It can be a huge win for the luckiest player who manages to get it. Of course, winning in this slot game depends on luck alone. The more you play, the bigger the chances that you'll get a prize.
FAQ
How can I play Hyper Galactic for free?
One way to play Hyper Galactic for free is to claim the free spins bonus offer that many online casinos feature for new and current players (check the one provided by Red Dog). If you want to play a demo version, you can also try the Hyper Galactic online slot for free. It is a great way to see what Hyper Galactic offers without spending real money on your own and to play it for fun instead of spending real money.
Is Hyper Galactic available on mobile?
The developer Nucleus Gaming has optimized Hyper Galactic to run on mobile devices, including Android and iOS devices.
Is there a free spins bonus in Hyper Galactic?
Unfortunately, players cannot trigger any free spins bonus as they play Hyper Galactic. The only bonus features in the game are the Wild symbol and the Synced Reels feature.
Space Cowboys
So, we've finally come to the end of our review of Hyper Galactic by Nucleus Gaming. The game is a simple slot machine with fruit slot symbols. There aren't many features, but Synced Reels is a welcome addition in any slot game, Hyper Galactic included. If you're a fan of the space theme, you're bound to enjoy playing Hyper Galactic yourself. Feel free to make a deposit and play it at Red Dog Casino. Good luck!