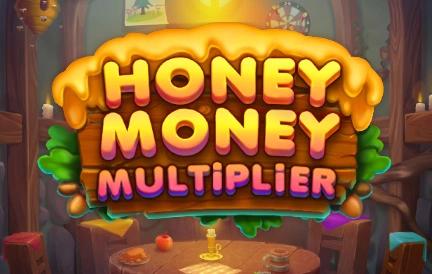 Honey Money Multiplier by DiceLab is a sweet and joyful slot machine created to take players into the secret fairytale world filled with fairy creatures and honey treasures. There are 25 pay lines on this slot machine's five reels. Honey and money are the game's themes, as you can guess from the title. Bees, honey, animals, and birds are among the symbols. The RTP rate is 96.5%, which is considered to be higher than average. Before each spin, the player can specify the bet size. Prices range from 0.1 to 100 euros. The wager and the kind of symbols that fell on the pay line determine the size of the win.
What is more, many bonus features, like Each Spin Multiplier, for example, will significantly increase your winnings. Of course, some only want to play the Honey Money Multiplier online slot for free without making any deposits and risking their money, but what thrill and fun in that? Moreover, no demo version is available at Red Dog Casino, so... We hope that after reading the following Honey Money Multiplier slot review, you will ensure that playing for real money means playing for fun, joy, and treasures.
Graphics & Design
The Honey Money Multiplier slot machine has a colorful and appealing graphic design with many theme-related components. For example, main game symbols are represented by icons of fairy Bee, Bear, Skunk, and other animals, as well as birds sitting on top of the honeycomb. The game's animations are also visually appealing, and the symbols move as winning combos fall. Honey Money Multiplier slots are sweet and engaging and give you a fairytale feeling.
Core Gameplay
Entering Honey Money Multiplier at Red Dog Casino, you find yourself inside the dream woods where Bees rule everything. You can guess it by the honey references everywhere and by the fairy Bee being one of the highest-paying symbols. Of course, there are plenty of others, but let's start with the vital symbols - Wild And Scatter, although if we are talking about the Honey Money Multiplier slot game, they are Wild and Bonus symbols.  
Wild - represented by the Honey Pot icon, substitutes for all symbols except for Bonus one, and catching five Wild symbols can add $200 to your final win.  
Bonus - represented by the Honey Hive and may land anywhere on the reels and trigger Honey Money Bonus.
Other symbols may be conditionally divided into Animal ones, the highest-paying, and Letter Symbols, the lowest-paying. For catching up to five Animals of each kind, a player can get from $300 to $150 in addition to the win. And if you catch up to five Letters, you may get from $10 to $15 in addition to the win.
Moreover, you might apply additional bonuses that will sweeten your chances of winning when you play Honey Money Multiplier at Red Dog Casino.  
In-Game Extras
For those who would like to play Honey Money Multiplier for real money, it is essential to know more about other in-game features that may increase their final winnings or even help them to hit the Jackpot. We will gladly share some rules for the most beneficial Honey Money Multiplier feature - Each Spin Multiplier.  
Each Spin Multiplier - before the reels stop, you are awarded a random x1-x10 win multiplier that nicely boosts your winnings! The multiplier moves one position left each spin. Only a special cell multiplier is active during a spin. In case the bet is changed, the multiplier panel is reset. If you revert the bet, the multiplier attached to it is activated again. 
Bonus Feature - collect the Bee Swarms to get a nice prize. Every time six or more bonus swarms land on the reels, you are awarded a respin! The swarms remain sticky during the respin. If another bee swarm lands on the reels during the respin, it awards you one more respin! Every bonus swarm remains in its place for further respins. The more swarms you gather - the bigger your prize is. So, for 15 swarms, you can get $10000!
FAQ
Is Honey Money Multiplier at Red Dog Casino mobile-friendly?
Sure! Every player is welcome to use their mobile device to enter this sweet honey world, and they don't even have to download an app - there is a fully optimized mobile version that you may access via your mobile browser.  
What is the Honey Money Multiplier RTP rate?
The Honey Money Multiplier game RTP rate is 96.5%.   
What Is Honey Money Multiplier slots max bet?
Players can bet up to $100.
Bottom Line
Honey Money Multiplier slots can be considered a sweet paradise for new and experienced gamers, whether using a demo version or making real bets. The game mechanics are simple, and the winning chances and options are huge! Moreover, there are nice bonus features that will help you boost your final win.