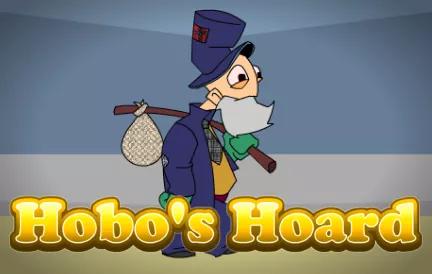 Rival Gaming's Hobo's Hoard online video slot is undoubtedly an oddball. Regarding online slots, hoboes and vagabonds aren't the first thing that comes to our minds. Hobo's Hoard by Rival Gaming is a 15-pay line, 5-reel non-progressive video slot game with 39 winning combinations. 
The payout percentage for Hobo's Hoard is 95.6 percent. The jackpot winner receives a respectable maximum win of 7500 coins as the ultimate prize. This video slot also features wild symbols, scatter symbols, free spins, and a bonus round in addition to the aforementioned jackpot. Keeping with the game's premise, the coin betting range is humble $0.01 to $1. The range of bets is $0.01 to $75 if you combine all the paylines. Five coins are the most that can be used per line.
Street Fashion and Big City Vibes
Rival Gaming has done an exceptional job with the visual aesthetics of Hobo's Hoard. The game's background depicts a bustling city street with various abandoned items, portraying the essence of a hobo's lifestyle. The symbols on the reels include bindle bags, tin cans, cardboard boxes, and shopping carts, all vividly designed to enhance the theme. Everything a self-respecting hobo would appreciate is here. 
Animations are smooth, and the artwork complements the game's narrative effectively. The user interface is intuitive and easy to navigate, ensuring a seamless gaming experience for newcomers and experienced players.
You Don't Have to Live on the Streets to Get your Hoard
Hobos must have a lot of "Wild Days," and their means of subsistence is foraging in trash cans. Any dustbin can replace other symbols in the standard game to create extra winning lines, and getting 4 or 5 Wild Dustbins on an active pay line will reward you with 2,500 and 7,500 times your line wager, respectively.
Harry exchanges any aluminum cans he discovers for bonus spins in his get-rich-quick scheme. You can exchange any three cans you find for 10 free spins, while five cans will pay out 50 times your total bet.
It's good news for you that Harry won't allow any crowd to go to waste because three or more crowds will start the Bonus Round. Since you only have a short amount of time to beg from one of the characters waiting at the bus stop, carefully consider which one you believe will most likely offer you money.
You can play this in our section of free slot machines if you don't care about winning real money, but if you want, you'll need to carefully match up 1 to 15 lines, 1 to 5 coins, and coin values ranging from 0.1 to 1.0. With these combinations, you can wager as little as 0.01 coins every spin and as much as 75 coins. 
Another imaginative and uniquely themed Rival Gaming slot is Hobo's Hoard. Although it's difficult to feel for the Hobos, it's far more entertaining to capitalize on their way of life in this slot game. Hobo's Hoard will become a staple in many slot players' game libraries.
FAQ
Does the game Hobo's Hoards at Red Dog Casino slots feature modern quality-of-life improvements?
Of sure! Hobo's Hordes at Red Dog Casino features numerous helpful options, including auto-spin, bespoke bets, and many more industry norms, available here. 
Is Hobo's Hoard slot playable on mobile devices?
Thanks to Rival Gaming, Hobo's Hoard has been perfectly optimized for use on mobile devices. The game runs flawlessly on various devices, including smartphones and tablets. Thanks to the responsive design, which preserves all of the aesthetically pleasing features and functionalities of the desktop version, players now have the option to enjoy the game on the go. Playing Hobo's Hoard slots on any platform will be fun, whether at home or standing in line.
Does Red Dog Casino provide a free way to play Hobo's Hoard online slot?
Even though the game doesn't yet have a practice demo option, we hope it will appear soon.
Verdict
Hobo's Hoard slots by Rival Gaming offer an engaging and enjoyable game experience that captures players' imagination. The game's captivating graphics, immersive gameplay, and unique features, like the Hobo's Hoard Bonus Round, set it apart from other slot games in the market.