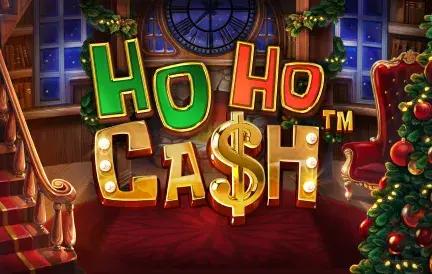 In festive visuals and a vibrant Christmas soundtrack, Ho Ho Cash at Red Dog Casino ensures that players are entertained and presented with strategic choices that can lead to exciting wins, making it a must-try for those seeking a holiday-themed slot with a twist.
Ho Ho Cash, developed by Nucleus Gaming, is a captivating online slot that immerses players in the enchanting spirit of Christmas. This 5x3 grid slot boasts an RTP of 95% and a top win of x1000. With features such as free spins, a purchase function, and a gambling game, Ho Ho Cash promises a unique and thrilling gaming experience.
Read our Ho Ho Cash slot review to learn about this game's exciting features.
Theme & Design
The festive theme of Ho Ho Cash by Nucleus Gaming is expertly executed, setting the stage for a cozy winter night. The background showcases a charming wood cabin adorned with Christmas decorations, with snow falling outside the window. The warm atmosphere is enhanced by a wreath of holly encircling the grid and a fireplace nearby. With his jolly expression and flowing white beard, Santa Claus leads the Christmas-themed paytable, accompanied by colorful fairies and other festive symbols. The delightful design, coupled with a vibrant Christmas tune, creates a truly immersive gaming environment.
Gameplay Features 
The Ho Ho Cash slot machine offers various exciting gameplay features, including free spins, a purchase function, and a gamble game. The highlight is the unique twist on Free Spins – each spin guarantees a win, ensuring that even the smallest prizes make the rounds exciting. Players can purchase free spins, bypassing the anticipation of landing bonus symbols. Additionally, the gamble feature adds a layer of risk and excitement, allowing players to wager half or all of their winnings on a coin flip.
The paytable is adorned with symbols like Santa Claus, fairies, and special icons such as snowman scatters and gingerbread wilds. Nucleus Gaming has set the paylines at 10, providing ample opportunities for winning combinations.
Winning the Game 
Ho Ho Cash at Red Dog Casino offers a bet range of 0.20 - 10, with the maximum base game prize of x750 awarded for landing five Santa Claus symbols. Other symbols, such as elves and letters, contribute to the festive paytable. The option to purchase free spins adds a strategic element to the game, requiring players to balance the cost against potential winnings. The gamble feature, while risky, adds an exhilarating dimension to the gameplay, allowing players to take chances for a bigger prize. 
FAQ 
How do I access the game rules and paytable in Ho Ho Cash? 
To access the game rules and paytable, click on the icon marked with the letter "I" in the game interface. This gateway provides essential information about the rules, bonuses, and paytable.
Can I purchase Free Spins in Ho Ho Cash slots? 
Yes, players can purchase free spins in Ho Ho Cash. The "buy feature" option in the right-hand corner allows players to skip landing scatters and purchase free spins directly. However, it's important to consider the cost and weigh it against potential winnings.
Where can I play Ho Ho Cash for real money? 
Right here, at Red Dog Casino! Enjoy the game on your mobile phone, tablet, or PC. Alternatively, You can play the Ho Ho Cash online slot for free in a demo version if you intend to enjoy the game for fun and not win real money. 
Conclusion 
The Ho Ho Cash slot game is a delightful and thrilling Christmas-themed experience everyone should try. The meticulous design, unique gameplay features, and the option to purchase free spins make it stand out in online slots. The gamble feature adds an extra layer of excitement, making each spin a potential turning point. Whether you play it safe or take bold risks, Ho Ho Cash guarantees a festive adventure filled with surprises. So, spin the reels, embrace the holiday spirit, and see if you can unwrap the gifts hidden under the Christmas tree in this captivating slot by Nucleus Gaming.