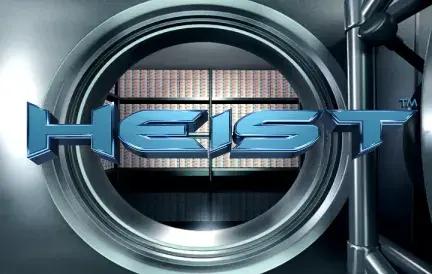 The shadowy world of high-stakes crime might not seem the most welcoming place, but it makes one hell of an appealing premise for a game. Heist by Betsoft is a gripping 5x3 grid online slot with 30 paylines, with an intriguing crime tale that pits the infamous professional criminal, Neil Quayland, against the relentless Detective Albert Kowalski.
Sidenote that we can not leave out: the game has an incredible intro sequence worthy of being a silver screen production. Quayland has his eyes set on the ultimate prize - £9 million hidden within a heavily fortified bank vault. As the tension mounts and the chase peaks, Detective Kowalski is determined to capture Quayland before he slips away with the fortune. If it's not a high-stakes premise for a game, we don't know what is.
Playing the Heist slot machine is your ticket to unraveling this thrilling hero versus villain narrative. As the reels come to life, you'll feel the pulse-pounding excitement of a high-stakes heist, where each spin brings you one step closer to a daring escape or a triumphant capture.
You can test your skills and explore the story while you play Heist online slot for free in a demo mode so graciously provided for the player by Betsoft or dive into the action for real money at Red Dog Casino. Will you be the one to outsmart the detective, or will Quayland make his escape with the loot of a lifetime? It's time to join the chase and find out in this Heist slot review.
The Thrill of the Hunt 
Heist's presentation is incredibly cinematic. The game's interface is top-notch, placing you at a high-tech secret operative console with the interface integrated into the background art. Drawing heavy inspiration from noir films, the visuals set the stage for a great crime narrative.
The reel symbols are outstanding, featuring charismatic characters and an array of tools and attributes of the trade. Each symbol is a piece of an intricate puzzle, from C4 explosives to classified charts, vaults, and various gadgets. The attention to detail, combined with the noir-inspired aesthetics, elevates the entire gaming experience. Heist at Red Dog Casino tells a captivating story and provides a masterclass in design and artistry.
Let the Chase Begin  
Heist slots is all about delivering non-stop entertainment, and it certainly lives up to its promise. The game maintains a balance where you won't feel bogged down by fruitless spins because the special features are so abundant, and you will keep coming for more. 
While it doesn't appear as frequently as other features, the Expanded Wild is a game-changer. With a 2x multiplier and the potential for a lucrative 5-of-a-kind combination, it has the power to deliver significant wins, offering moments of true exhilaration. 
Click Me Feature, which grants you access to free spins, is more elusive and unpredictable. It can swing from delight, rewarding you handsomely with wins of up to 26x your bet, to the occasional modest outcome where you'll only walk away with a fraction of your wager. 
The Safe-Cracking Bonus is the highlight of Heist. Here, you must make strategic decisions about when to exit the vault to avoid detection. Leave too early, and you might not secure a substantial payout; stay too long, and you risk being caught losing out entirely. This feature brings a palpable sense of tension and suspense to the game, making it an unforgettable experience. 
FAQ 
Can I become a master safe-cracker while sitting on my couch? 
It's the 21-st century; of course, you can, and you should! The game is accessible on all mobile devices, such as phones and tablets, and doesn't require an app download!
How often do the game's features appear, and do they significantly impact gameplay? 
Heist delivers features with impressive regularity, ensuring you're frequently engaged without enduring prolonged dry spells.
Why is the Click Me Feature so special? 
The Click Me Feature can vary widely in its outcomes. It can lead to substantial wins of up to 26x your bet or occasionally result in more modest payouts. Its unpredictability adds to the excitement of the game. 
Final Thoughts 
Heist offers an irresistibly appealing premise in the dark and alluring world of high-stakes crime. The game's incredible intro sequence perfectly sets the stage for a drama behind the scenes. Whether you test your skills for fun or play Heist for real money at Red Dog Casino, the chase is on. Will you outsmart the detective or join Quayland in making off with the catch of a lifetime? Join the Heist and discover the thrill of the hunt.