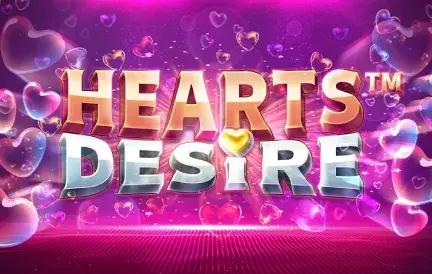 Step into a world of romance and passion with the Hearts Desire slot. This enchanting game, available exclusively at Red Dog Casino, encapsulates the essence of love, turning every spin into a poetic experience. The slot machine delivers more than just a pretty facade; it offers players a chance to win big while being serenaded by its captivating theme.
Key Features:
Romantic Graphics: Hearts Desire presents a tapestry of romantic symbols, each beautifully crafted to evoke feelings of love and yearning.
Generous Bonuses: Players can anticipate heart-racing bonus rounds, ensuring the love story remains rewarding in more ways than one.
Smooth Gameplay: The intuitive interface of the slot ensures that both seasoned players and novices can navigate with ease.
The allure of Hearts Desire is not just its thematic brilliance but also its potential for payouts. It's a game that merges emotion with excitement, making every spin a journey of the heart. For those searching for a slot that touches the soul while also offering the chance for considerable rewards, Hearts Desire at Red Dog Casino beckons with open arms.