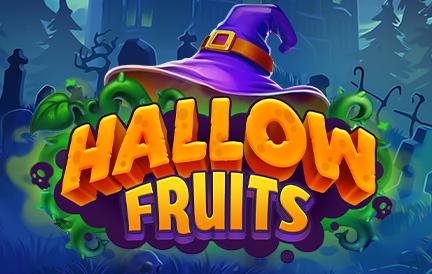 Welcome to the spooktacular world of Hallow Fruits by DiceLab, an online slot game that masterfully blends the eerie charm of Halloween with the juicy delights of fruit machines! As the dusk settles and the moon casts its silvery glow, players are invited to a hauntingly delightful experience that's both bone-chilling and fruit-filled. This game is perfect for those who love a dash of spookiness with their slots, promising a thrilling adventure as unpredictable as a witch's spell. 
The charm of this slot machine lies in its ability to offer an uncomplicated yet immersive gaming experience. It's designed with new and experienced players in mind, ensuring everyone can enjoy the thrill of the game without any complex rules or overwhelming mechanics. Each spin brings the possibility of delightful surprises, keeping the gameplay fresh and exciting. The game's straightforward nature makes it easy to pick up, but the Halloween twist ensures the fun remains for a long time.
As Hallow Fruits weaves its magic, it becomes clear that DiceLab has created a game that's not just about winning but also about enjoying the journey. So, grab your lucky charm and prepare to be enchanted by the quirky world of Hallow Fruits! But first, let us introduce you to its inner workings in our Hallow Fruits slot review!
Visuals and Theme 
The game's visual theme is a masterful mix of spooky and sweet elements, creating an atmosphere that's mysterious and inviting at the same time. The background sets the perfect stage for this enchanting adventure, featuring a moonlit cemetery surrounded by eerie pine trees and ancient gravestones. This hauntingly beautiful setting is complemented by a vibrant color palette that brings a lively contrast to the scene. The deep hues of midnight blue and ghostly greys form a splendid backdrop, allowing the brighter colors of the fruit symbols to pop and captivate the player's eye. 
Design-wise, Hallow Fruits slots are a testament to the creative prowess of DiceLab, showcasing attention to detail and artistic finesse. The artists have skillfully infused traditional fruit icons with a playful twist, ensuring that each element aligns perfectly with the game's theme. The clever use of lighting and shadow in the design adds depth to the visuals, enhancing the game's vibe. 
Speaking of animations, they're nothing short of spectacular. While the symbols themselves are static, the game's animation is designed to powerfully enhance the player's experience. Overall, the combination of stunning visuals, thoughtful animations, and an enchanting theme makes Hallow Fruits a succulent eye candy, ensuring that every spin is as visually delightful as exciting to play. 
What's Inside? 
As a 5x3 slot machine boasting 25 paylines, this game perfectly balances classic slot fun and innovative twists. The game's structure is straightforward: winning combinations pay from left to right, except for the Scatter, which pays any, and only the highest win per line is paid. Easy as that. So, let's look under the hood of this fruit-themed adventure and discover what special features it has in store! 
Wild Symbol — Substitutes for all symbols except for the Scatter and pays up to $120 when 2 or more land together. 
Scatter Symbol — Landing 3 or more results in triggering the Free Spin feature and rewards up to $100. 
Free Spins feature: The feature activates after 3 or more Scatters drop on the gameboard, granting 10 Free Spins with an increasing all-wins multiplier! The initial multiplier's value is 2, increasing by 1 every 2 Free Spins, lifting to X6. And if you thought it was the end, a sticky Wild in the middle of the reels will surely put some extra cash into your wallet! 
FAQ 
Can I try Hallow Fruits without placing deposits? 
Sure thing! Choose to play Hallow Fruits online slot for free and dive into the vibrant world it offers using the demo option. Experience the game for fun, reveling in its exciting gameplay without any financial risk. When you feel ready and confident, seamlessly transition to playing Hallow Fruits for real money, elevating your gaming experience to new heights of excitement. 
Can I play Hallow Fruits anywhere other than on my PC? 
No problem with that. You can experience the thrill of Hallow Fruits at Red Dog Casino right from your mobile device. The mobile-friendly design guarantees that Hallow Fruits runs smoothly, providing an enjoyable experience on any gadget. 
How many paylines and special features are in Hallow Fruits? 
This slot game comes with 25 paylines, one bonus game, and two special symbols.
Final Word 
In conclusion, Hallow Fruits is a delightful blend of eye-catching visuals, engaging special features, and enjoyable gameplay. Its vibrant design and Halloween-themed twist make every spin a visual pleasure. The game's special features add an extra layer of excitement, keeping players engaged and immersed. With straightforward gameplay that's both fun and rewarding, Hallow Fruits is a perfect choice for any online casino enthusiast looking for a tasty and entertaining slot experience.