Great White Buffalo Video Slot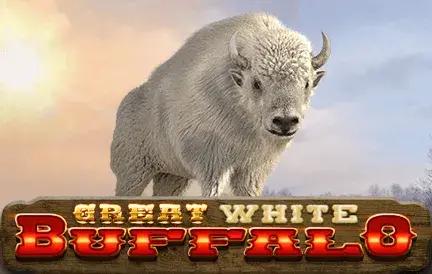 Unveil a world where the American valleys stretch endlessly, painted with golden hues and earthy shades. Great White Buffalo by Saucify weaves the essence of untouched landscapes and the spirit of American wildlife into a slot machine like no other. 
Here, amidst the reels, the commanding presence of the buffalo stands tall, complemented by soaring eagles and wise wolves. Every spin immerses players into a harmonious blend of tribal drumbeats and ambient sounds of the wild, crafting an atmosphere that transcends the screen. 
Beyond its captivating visuals and melodies, the game promises a blend of thrilling gameplay mechanics and bountiful rewards. Whether you're a seasoned slot enthusiast or a curious newcomer, this slot game will deliver an exceptional experience. Want to learn how to win the game? Read our Great White Buffalo slot review until the end and be fully informed! 
Theme & Visual Design 
The game's backdrop paints a poetic scene of an American valley and a setting sun that casts golden tones across the screen. Each spin illuminates this vast landscape, revealing the rich details and intricate nuances that make the scene come alive. The setting sun, with its vivid hues of amber and twilight, not only adds depth but evokes a feeling of warmth and adventure.
Animations are smooth and compelling, bringing a dynamism that captures the essence of the wild. From the gentle sway of grass to the majestic stride of the buffalo, every movement is fluid, making gameplay an absolute delight.
The symbols and icons, inspired by American wildlife, are crafted with meticulous detail, and their designs beautifully complement the game's overarching theme. The color palette, dominated by earthy browns and radiant golds, is both soothing and captivating, encouraging players to take one spin after another. 
Core Gameplay & Extra Features 
Now, while the core gameplay keeps your pulse racing, wait till you stumble upon those special symbols – they're game-changers, quite literally! And just when you think you've seen it all, the game pulls out a twist with an exclusive extra feature, ensuring every play session feels as fresh and exhilarating as your first.
Wins are rewarded from left to right, except for Scatter symbols, which reward in any direction. Every payline victory is multiplied by the credits bet per line. Wins from Scatters get a boost based on the total credits bet. Moreover, Scatter rewards are given on top of payline victories. Remember that for each active payline, only the top win is granted. 
Halfway through. Before you discover more ways to win the game and how to increase your profit, let's learn about the regular symbols. 
| | | | |
| --- | --- | --- | --- |
| Symbol Name | X3 | X4 | X5 |
| J | $ 6 | $ 10 | $ 30 |
| Q | $ 9 | $ 20 | $ 40 |
| K | $ 12 | $ 25 | $ 80 |
| A | $ 15 | $ 35 | $ 150 |
| Horse | $ 20 | $ 40 | $ 200 |
| Wolf | $ 25 | $ 60 | $ 300 |
| Bear | $ 40 | $ 100 | $ 500 |
| Buffalo | $ 75 | $ 200 | $ 1000 |
| Eagle Scatter (Scatter wins are multiplied by total credits wagered and are paid in addition to payline wins) | $ 5 | $ 10 | $ 25  |
Wild Symbol — Substitutes for any other symbol except the Scatter and does not show up in Free Spins. 
Expanding Wild — Shows up only in the Free Spins round and may land on any reel to stretch across it and complete any potential wins. These symbols can replace any other symbols except for the Scatter symbols. 
Buffalo Bullion — Landing 3 or more Feature symbols anywhere on the reels launches the Buffalo Bullion feature game. Before the Free Spins round starts, you are given 4 tries and 9 golden bullions, each containing a portion of Free Spins or a Multiplier. The Feature symbol doesn't show up in the Free Spins round. 
FAQ 
Can I play Great White Buffalo without risking my money? 
Absolutely! You can play Great White Buffalo online slot for free in the demo version. It's an ideal way to get a feel for its distinct features and indulge in gameplay purely for fun. When you're ready to elevate the stakes, having attuned to its ebb and flow, you can dive deeper and play Great White Buffalo for real money.
Can I play Great White Buffalo with my smartphone? 
Yes, of course! You can experience Great White Buffalo at Red Dog Casino wherever you roam. With our mobile platform designed to be adaptive and seamlessly responsive, rest assured it'll perfectly fit devices of all screen sizes, be it smartphones or tablets.
What is the Great White Buffalo's RTP rate? 
The Return to Player rate equals 95.93%. 
Last Words 
As our journey with Great White Buffalo slots draws to its end, it's evident that this is no ordinary slot game. The meticulous graphics and visual design effortlessly transport you, making every play feel like a scenic escape into nature. Beyond its visual prowess, the gameplay promises and delivers a captivating blend of thrill and rewards. In essence, this slot game is an example of what modern gaming can achieve, artfully merging design, theme, and mechanics into one unforgettable experience. If you haven't yet, saddle up and give it a spin; the Great White Buffalo awaits!