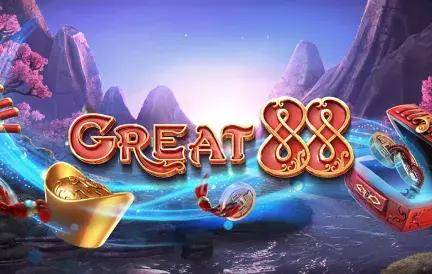 Step into a world of Eastern mystique and enchantment with Great 88 at Red Dog Casino, a sensational online slot developed by BetSoft. In a landscape teeming with video slots centered on Oriental themes, Great 88 boldly emerges as a standout. Its exceptional graphics and animation create a visual spectacle that sets it apart.
 Great 88 is a 5-reel, 3-row slot game boasting 30 paylines, all adorned with an authentic Asian theme. But it's not just the aesthetics that make this game remarkable. The core of its allure lies in the Lucky boxes, a main game feature. Triggered by the appearance of three of these symbols, they hold the key to unlocking a world of possibilities. Each box can reveal an Instant Win, Free Spins, or Bonus Wheel. It's the Bonus Wheel that holds the promise of unparalleled rewards, granting players the chance to win up to a staggering 6,000 times their total stake – a colossal 5,400,000 coins.
While Great 88 slots may not overwhelm you with many complex game features, its simplicity is its strength. The bonus game is straightforward and intuitive, allowing players to focus on the stunning graphics and mesmerizing animations that envelop the reels. In this review, we'll delve deeper into the world of Great 88 by Betsoft, exploring its enchanting gameplay, the potential for big wins, and what sets this game apart in the realm of Asian-themed slots.
Style and Presentation 
Great 88's design and visuals expertly weave elements of Eastern culture into every aspect of its design, from the symbols to the backdrop, creating an authentic and captivating atmosphere. The beautifully rendered symbols offer a rich tapestry of Asian traditions and symbolism. The animations are equally impressive, bringing the game to life with smooth transitions and eye-catching effects. Regarding aesthetics, Great 88 is a visual feast, offering a harmonious blend of elegance and cultural richness that serves as the perfect backdrop for an exciting and engaging gaming session.
Basics of the Great 88
Let's take a more detailed look at all the features and bonuses you may come across playing the Great 88 at Red Dog Casino.
Wild Symbol: The Wild symbol, represented by the image of a cracker, plays a pivotal role in enhancing your winning potential. This symbol can substitute for other symbols, significantly increasing the chances of forming winning lines. Remarkably, landing five Wilds on the reels triggers the highest payout, an impressive multiplier of x8888. 
Scatter Symbol: The Scatter symbol, depicted as lucky boxes, introduces players to the exciting Bonus Feature. These enchanting boxes unlock a realm of rewards and add to the game's intrigue. 
Bonus Features: Great 88 is generously endowed with various bonus functions, each offering unique opportunities for substantial wins. BetSoft has meticulously crafted these features to elevate the gaming experience: 
Top Symbols: The first bonus variant introduces extra symbols, specifically the Dragon and Lion, with high payout coefficients. These symbols are found in the Scatter positions, further enhancing your chances of winning big. 
Instant Win: This feature allows one to win fixed-sized prizes determined by the number of bronze coins collected. 
Firecracker Wilds: Extra Wilds come into play with monetary prizes, adding to the excitement. 
Jade Coins: This feature includes a bundle of Free Spins, promising ample opportunities to increase your winnings. 
Golden Dumplings: Representing the most promising bonus variant - the Bonus Wheel - this feature offers up to 25 Free Games with an astounding x20 multiplier, paving the way for extraordinary rewards. 
Great 88 slot machine masterfully combines rich cultural elements with thrilling gameplay, offering players a chance to explore the wonders of the East and the prospect of landing fabulous prizes. Dive into the world of Eastern culture and uncover this slot game's secrets. 
FAQ 
Is Great 88 compatible with mobile devices? 
Absolutely! Great 88 has been optimized for mobile play, ensuring you can enjoy the game on your smartphone or tablet, whether at home or on the go.
How can I get the Instant Win feature in Great 88? 
The Instant Win feature allows you to win fixed-size prizes, with the sum determined by the number of bronze coins collected during gameplay.
Are there any additional game modes available? 
You can play the Great 88 online slot for free in a demo mode to see if it fits your preferences or get a better hang of the rules and mechanics, and just enjoy it for fun. But remember that 5,400,000 coin wins are only possible if you play Great 88 for real money.
Final Thoughts 
It's time to wrap up our Great 88 slot review. With its captivating visuals, enchanting animations, and an array of bonus features, this slot transports players to the mystique of Eastern culture. The Lucky boxes, Bonus Wheel, and the potential for remarkable wins make it a must-try. It's a game where simplicity enhances the overall experience, allowing players to focus on the stunning aesthetics. Great 88 is not just a slot; it's a visual and cultural journey that promises rewarding adventures.