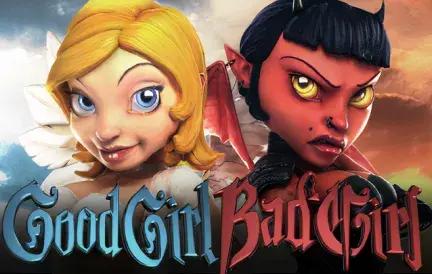 Delve into the intriguing duality of human nature with Good Girl, Bad Girl, a slot machine that masterfully blends the angelic with the devilish. Every spin is a dance between light and shadow, offering players the chance to side with their inner angel or devil.
Standing as a testament to Red Dog Casino's penchant for innovation, Good Girl, Bad Girl distinguishes itself with its compelling theme. The reels come alive with symbols of innocence and mischief. From the pure white feathers of angels to the mischievous pitchforks of devils, the graphics and animations are nothing short of captivating.
But it's not just the visuals that steal the show. The slot machine offers a unique gameplay mechanic that lets players choose their alignment. Will you walk the path of the righteous or revel in wicked delights?
Key Features of Good Girl, Bad Girl:
Dual-mode gameplay allowing players to choose their side: good or bad.
Heavenly and hellish bonus rounds, tailored to your chosen alignment.
The 'Divine Decision Jackpot', a feature that can bless players with celestial rewards or devilish riches.
To sum it up, Good Girl, Bad Girl is a testament to the age-old tug of war between our better angels and mischievous demons. This game not only entertains but also provides a unique introspective experience. Red Dog Casino, with its commitment to pushing boundaries, adds another jewel to its crown with this title. For those who seek both introspection and exhilaration in their gaming experience, Good Girl, Bad Girl is a must-play. So, which side will you choose? The celestial highs of the Good Girl or the thrilling depths of the Bad Girl? The choice is yours, and the rewards are plenty!