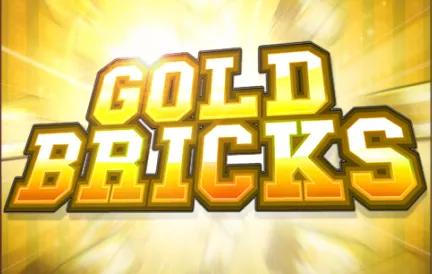 Gold Bricks by Rival is a fresh and fruity online slot game now available at Red Dog Casino. The setup is a classical one-armed bandit that, it seems, is waddling into the Fruit Ninja territory a bit. The game has everything you expect to see in a traditional slot with some extra seasoning. It's a 3 reels 3 paylines slot with low volatility and RTP of 94.5%. You can bet from 1 to 3 coins per line, with coins value range $0.01-$5.
Gold Bricks offers all the modern quality-of-life features, like an autoplay option with preset parameters, to make the experience much more enjoyable. So if you are into traditional slots with a bright design, recognizable imagery, and smooth gameplay without wild swing on either side, this one might be just right for you.
Graphics and Design
The first thing you notice upon launching the game is that it's bright. It applies to everything about this slot machine, from the loading screen to the background, animations, icons, and frames. The background is literally a wall of golden bricks! What shinier, brighter, and more alluring image can you think of?
The area around the playing field is styled after a gold-plated one-armed bandit. The symbols on the reels are crisp and extremely vibrant. Icons themselves are a neat throwback to the glory days of "analog" reels spinning and, unlike the vast majority of modern slots, don't have their symbols replaced with regular playing cards suits and ranks, and are rather vastly more iconic bars, sevens and a trio of fruits - a couple of cherries, a plum and a slice of watermelon. So if you are thirsty for some juice and even juicier wins, this will most definitely float your boat.
The animations are smooth, even though they are not the most intricate we have seen, but they get the job done well enough. Music is abrasive, which is the best you could ask from a slot game nowadays, if you ask us, with really catchy tunes that stand out and have a merit of their own.
Gameplay Basics and Mechanics
Being a conventionally styled slot machine game, Gold Bricks slots play as one too. Your main objective is naturally to win, and win big at that. And you do this by getting the same symbols on the payline you've wagered on. Naturally, the symbols have a hierarchy of their own and are not all made equal. The highest paying icon is a stack of gold bars that also act as a WIld, but more on that later. The lowest-paying icon is a pair of cherries. If you get a trio of the same symbols on a payline - you win. Simple as that.
We have already mentioned Wild being a curveball in this rather simplistic scheme. It works in the following way: upon forming a winning line, wild symbols will replace all other symbols. Furthermore, only the highest multiplier in a win line is used when it applies. As you can see, nothing too complicated, so the game is really newcomer friendly and easy to pick up.
FAQ
Is there an option to play Gold Bricks for free at Red Dog Casino?
Red Dog offers its players an option to play Gold Bricks online slot for free and check it prior to playing Gold Bricks for real money. If you are not sure whether you would enjoy the game at all, or just curious about it, or maybe want to learn the combinations first, you can access a free demo mode of the game.
Does the game run well on modern mobile devices?
Rival is a staple of the modern online slot scene and has earned its position and reputation through hard work and dedication. Such a position would befall someone who doesn't know how to make a game optimized for mobile platforms, as most gamers prefer to indulge in their hobby on the small screen. Rest assured, if you have a relatively modern device, the game runs on it without any major hiccups.
How do I find Gold Bricks on the Red Dog Casino website?
The game is available in the Slots section in the Games menu; alternatively, you can find it through the search engine available on the main page.
Final Overview
If you want a game that's: 
well designed; 
well optimized; 
easy to learn; 
has low Volatility; 
can be played for fun.
Look no further and check out Gold Bricks at Red Dog Casino!