Global Cup Soccer Unified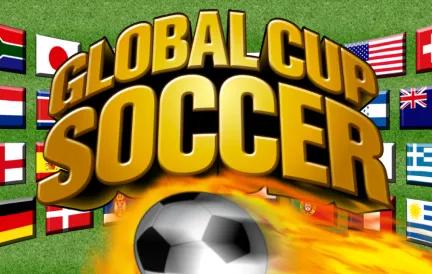 Global Cup Soccer by Rival Gaming is the developer's attempt to try their hand at the 'less is more' formula by introducing a playing board smaller than their usual 5x3 layout and focusing on unique payout mechanics. These are the game's defining characteristics:
medium volatility;
3x3 playing board;
RTP of about 94%;
top award of 5000 times the bet.
As the name implies, the game aims to replicate the thrill of watching a game of soccer. While it is true a player can enjoy both from their PC or mobile screen, such a goal seems a bit too ambitious for an online casino title. Or is it? We have the entirety of this Global Cup Soccer slot review to find out.
Theme Visuals
Graphics-wise, the slot game conveys the spirit of the 2000's soccer tournaments with minimalist, concise designs. On top of a background that features 32 flags of the 2006 World Cup participant countries (yes, we are avid fans), there's a playing board that mimics the looks of a typical slot machine you'll see in a bar, which is a great stylistic find.  
On the reels, you'll find all the items typically associated with soccer, including the World Cup, the Champions League trophy, and a cartoon rendition of a referee to ensure everything stays in order.
Core Gameplay
Considering the possible amount of combinations, Rival Gaming didn't think it necessary to include a paytable, but you can still find some figures on the reference page to enlighten you on the winning prospects. Only the middle horizontal row counts as a payline, and the combos are counted from left to right. 
In-Game Extras
Global Cup Soccer ditches the Wild substitutes in favor of fixed Scatter payouts ($0.75 for one and $3.75 for two), and that's a sound decision - there's simply not enough space for both. The most lucrative cup combination that gives you $37.50 goes like this: World Cup - Champions League Cup - UEFA EURO Cup - or, in the game's terms, Gold - Silver - Bronze. Rival is clearly not an avid fan, but they know what casino gaming is about.  
Scoring any three trophies on the same line gets you $7.50. Hit all three, only in scrambled order, and you'll get $22.50. The rules also specify that any combination of Bar symbols results in a win of $3.75. 
FAQ
What does it take to play Global Cup Soccer for real money?
To play Global Cup Soccer at Red Dog Casino, you must first create an account, which can be accomplished in a matter of minutes. Then, you should pick the optimal banking method from our list and make your first deposit within the stated limits. Remember to pick our Welcome bonus while you're at it! 
Can I play Global Cup Soccer online slot for free?
Yes. To access the demo mode of all our games, log out from your account, if any, and reload the page. Upon doing so, clicking on any title will automatically activate the practice version, allowing you to play for fun.
Is there a portable version of Global Cup Soccer slots?
The game goes easy on any modern hardware, and you'll have no problems launching it in literally any mobile browser.
Verdict
Global Cup Soccer is a perfect fit for a dragging, rainy day when you just don't have what it takes to watch your local team play at your favorite pub. It has a very stripped-down gameplay, but instead of making the game feel like a lesser version of 5x3 slots, this allows for more focus and thrill you are guaranteed to feel while hunting down that perfect combo of three cups.