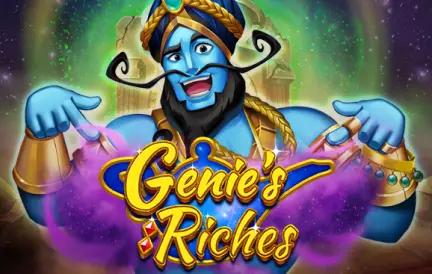 Imagine the power to change your destiny with a simple lamp rub, unleashing the magic of the Genie to grant your wishes. Genies Riches by Dragon Gaming, inspired by the timeless tales of Aladdin and the mystical Genie, bring that to reality, albeit a virtual one. As the lamp's mystical aura beckons, you'll embark on an extraordinary adventure through the streets of a medieval Arabian city.
This magical slot boasts 5 reels and an impressive 50 paylines, offering abundant opportunities to conjure riches. You'll encounter ten basic symbols, including golden playing card icons, Princess Jasmin, a majestic tiger, the charming Aladdin, and the elusive Genie on the reels. Keeping the magic alive, a flying carpet serves as the wild icon, stepping in when needed to complete winning combinations.
However, the true magic lies in the Genie's lamp and the coveted prize symbol. When you land at least six symbols, you awaken Aladdin's wish feature. You can respin now, but before it unfolds, you must select a lamp symbol, unveiling one of four potential wishes: a prize symbol, an instant win, a random multiplier, or extra Free Spins. Genies Riches slots grant you the chance to turn your wishes into astonishing treasures in a slot adventure that keeps the magic alive.
Magic Unchained 
No Genies Riches slot review would be complete without discussing its appearance. We shouldn't judge a book by its cover, but first impressions matter. And, boy, does Genies Riches at Red Dog Casino deliver in this department. Each symbol is meticulously polished, exuding an elegance that evokes the opulence of Arabian tales. From the intricate playing card icons to the captivating characters like Princess Jasmin, the regal tiger, the charming Aladdin, and the elusive Genie, the symbols come to life with an animated allure that's simply irresistible.
What truly sets Genies Riches apart is its ornate matrix. The attention to detail in the backdrop is evident, transporting players directly to Agrabah, complete with domed rooftops, intricate architecture, and the alluring promise of adventure. This picturesque setting is a perfect backdrop for a slot game that embodies the allure of classic storytelling.
Every spin in Genies Riches is a chance for riches and an opportunity to soak in the beautiful art and design that transports you to the heart of a timeless tale. It's a visual delight that adds more magic to an already captivating gaming experience.
Making Genie Cooperate 
Genies Riches offers a straightforward yet captivating gameplay experience. You can learn all the ins and outs by playing Genies Riches online slot for free in a demo mode included by the provider. If you wish to get right to it, here is all you need to know to play Genies Riches for real money and succeed.
Reels and Paylines: The game features 5 reels and an impressive 50 paylines, providing numerous opportunities for winning combinations. 
Symbol Variety: Among the ten basic symbols, you'll encounter six polished golden playing card icons, each with a distinct allure. The characters from the famous cartoon, including Princess Jasmin, a regal tiger, Aladdin, and the enigmatic Genie, serve as gateways to the enchanting world of Arabian tales. 
Wild Symbol: The flying carpet takes on the role of the wild symbol, stepping in to replace basic symbols when needed to create winning combinations. 
Special Icons: The Genie's lamp and the prize symbol are the keys to unlocking Aladdin's wish feature. Landing at least six special symbols triggers a re-spin round, where you select a lamp symbol to reveal a prize. They can include a unique symbol, an instant win, a random multiplier, or extra Free Spins, infusing every spin with added excitement. 
Free Spins: During the base game, landing three lamps on the reels awards players with free spins, extending the enchantment of your Arabian adventure. 
Genies Riches artfully combines these mechanics and features, offering a chance to uncover the treasures concealed within Genie's lamp and the timeless tales of Arabian nights with every spin.
FAQ 
What is the maximum win potential in Genies Riches? 
The maximum win in Genies Riches slot machine can reach up to 2,000 times your initial bet, promising enchanting rewards for lucky players.
How do you activate the Free Spins feature in the game? 
Landing three lamps on the matrix during the base game is the key to unlocking the Free Spins feature in Genies Riches, extending the excitement of your Arabian adventure with extra spins.
Can I enjoy Genies Wishes on my mobile phone? 
Yes, Genies Riches is designed to be fully compatible with mobile devices to let you play for fun literally everywhere! Whether playing on a smartphone or tablet, you can experience the game's magic on the go, thanks to HTML5 technology that ensures smooth gameplay on various mobile platforms.
Verdict 
Genies Riches by Dragon Gaming is a magical journey through the captivating tales of Aladdin and the mystical Genie, now brought to life in the virtual realm. With 5 reels and an impressive 50 paylines, the game offers many opportunities to summon riches. Beyond its generous paylines, the enchanting wish-granting features truly make this slot shine. Landing the Genie's lamp or prize symbols opens the door to Aladdin's wish feature, offering re-spins with a chance to reveal one of four thrilling wishes, from instant wins to Free Spins and multipliers.