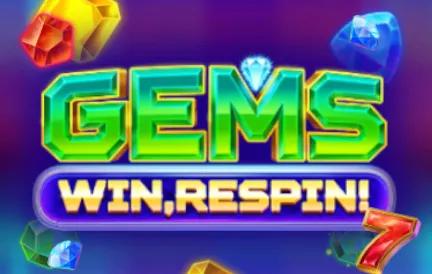 If you're searching for a dazzling and enchanting online slot game, look no further than Gems, Win, Respin! by DiceLab, available at Red Dog Casino now! Prepare to be captivated by the brilliance of precious gemstones as you embark on an exhilarating quest for riches. With its innovative gameplay mechanics, visually stunning design, and the potential for sparkling rewards, Gems, Win, Respin! stands out as a gemstone extravaganza in the world of online slots. Go through this Gems, Win, Respin! slot review to know the details.
Glittering Gems, Baubles, And Trinkets Shining Brightly
Gems, Win, Respin! slot machine unfolds like a treasure trove of magnificent gemstones, mesmerizing players with its splendid graphics and dazzling animations. As the reels spin, a kaleidoscope of radiant gems fills the screen, evoking a sense of opulence and luxury. The vibrant colors and meticulous attention to detail create a mesmerizing visual spectacle, immersing players in a world of brilliance and grandeur.
All the symbols on the reels are either gems themselves or are made out of precious stones keeping in with the style of the game. The artwork is incredibly well done. While bright and shiny for obvious reasons, the playing field and the symbols are balanced by a tame and somewhat subdued backdrop of a dark blue gradient, letting you focus on the game without stealing any of your attention from the actual gameplay.
The Jeweler's Secrets to Making Some Real Strides While Playing Gems, Win, Respin!
For Real Money 
The symbols must land on the payline from left to right to bring the player some cash, and only the highest possible combination is counted for the win.
At the heart of Gems, Win, Respin! lies a captivating respin feature that sets it apart from traditional slot games. The game introduces an x3 grid filled with shimmering gem clusters, where winning combinations trigger a thrilling chain reaction. When a cluster forms a winning combination, the gems light up with a radiant glow, and the remaining symbols receive a respin, holding the potential for consecutive wins. This innovative respin feature transforms every spin into an enthralling gem-hunting adventure.
For one respin with an X3 win multiplier, cover any two reels with the same symbol. A respin is initiated when a symbol appears on two reels, and no winning combination is present. The other reel spins as these two reels become stuck. Wins from respins are multiplied by three. Each time, just one respin is given. The Wild symbol counts as any other when it appears on the reels.
FAQ
Does the game provide mobile functionality and compatibility?
On PC and mobile devices, Gems, Win, Respin! offers a fluid gameplay experience. The user-friendly design of the game makes it easy for players to travel around the gem-filled reels, and full mobile compatibility allows fans to enjoy Gems, Win, Respin! while they're out and about. Wherever your quest for wealth takes you—at home or on a captivating adventure—Gems, Win, Respin! shines brightly.
Does Red Dog Casino provide an option to play Gems, Win, Respin! online slot for free?
There is no demo mode for this game, but there is a unique free spin feature that can possibly make every new free spin cost no money.
What fundamental details should I know before playing the Gems, Win, and Respin? slots?
The game comes with: 
3 by 3 playing field; 
5 independent paylines; 
RTP of 96%; 
free respin feature; 
wild symbol feature; 
medium volatility; 
autoplay option.
Final Thoughts
Gems, Win, Respin! by DiceLab is an enchanting and visually captivating online slot game that captures the allure of precious gemstones. With its innovative features, glowing wild symbols, and rewarding mechanics, the game offers an immersive and rewarding gaming experience. The combination of mesmerizing graphics, a sparkling soundtrack, and the potential for substantial rewards makes Gems, Win, Respin! a crown jewel in Red Dog Casino's treasure trove of slot games. If you're seeking a dazzling slot adventure that radiates brilliance, look no further than Gems, Win, Respin! Spin the reels and watch the gems light up your path to sparkling wins!