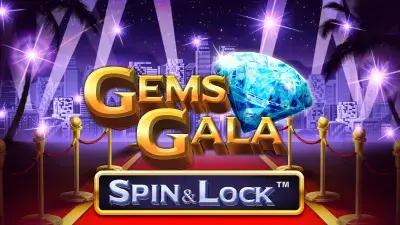 In the glittering realm of online slot offerings, Gems Gala Spin And Lock emerges as a dazzling spectacle that captures the imagination of players. Exclusively found at Red Dog Casino, this game encapsulates the allure of radiant gemstones and the exhilaration of securing massive wins.
The first thing to note about Gems Gala Spin And Lock is its mesmerizing design. As you play, the screen glistens and sparkles, showcasing a variety of gems that seem to dance with light. The 3D graphics are so finely detailed that one can almost feel the texture of each gem. Complementing the visual treat is a whimsical soundtrack that creates a festive atmosphere of a gala event.
Key highlights of the game include:
The innovative 'Spin And Lock' feature.
Lucrative wild symbols that promise hefty payouts.
Bonus rounds bursting with free spins.
A jackpot mechanism tied to specific gem combinations.
Functioning as a state-of-the-art slot machine, Gems Gala Spin And Lock offers a user-friendly interface, making it a breeze for newcomers while retaining intricate elements to intrigue seasoned players. The slot's RTP is competitive, ensuring players get a fair shot at claiming the sparkling treasures within.
In conclusion, Gems Gala Spin And Lock is a brilliant addition to the online gaming cosmos. It seamlessly fuses awe-inspiring graphics with thrilling gameplay elements. Anyone seeking a lavish visual experience combined with the thrill of chasing wins should give it a spin. Red Dog Casino offers this gem-filled extravaganza, ensuring players get the premium experience they deserve.
Dive into this radiant gala and may you unlock the treasures that await!