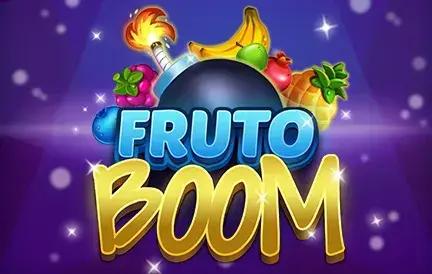 Fruto Boom by DiceLab is a refreshing addition to the world of online slots at Red Dog Casino. This vibrant game boasts a fruity theme, exciting gameplay features, and the potential for juicy wins. With 5 reels, 20 paylines, and a host of bonus symbols, it promises an immersive gaming experience.  
Read our Fruto Boom slot review and get ready for some fruity-winning explosions!
Theme & Design 
Fruto Boom welcomes players with various fruits on a purple background with a big bomb in the middle of the screen. The game's reels are adorned with mouthwatering symbols, including pineapples, pomegranates, bananas, apples with grapes, and raspberries with blueberries. These visuals make every spin feel like a journey through a fruit-filled oasis.
The layout is user-friendly, with the reels dominating the center of the screen. The paylines are marked, and essential information, such as the balance and bet size, is easily accessible. The game's visual and auditory elements work harmoniously to immerse players in its fruity world, creating an engaging and enjoyable gaming environment.
Gameplay Features 
The Fruto Boom slot machine offers a range of exciting gameplay features that keep players entertained.
Wild Symbol (Big W): The Big W symbol serves as the Wild, substituting for all symbols except the Fizzy Bonus and Fruto Boom. It provides generous payouts of $4 for three, $25 for four, and $50 for five on a payline, increasing the chances of creating winning combinations. 
Fizzy Bonus Symbol: The Fizzy Bonus symbol is the key to unlocking cash prizes. When three or more Fizzy Bonuses appear, players are rewarded with cash prizes ranging from x2 to x25 of the total bet. The prizes get even more enticing with four or five Fizzy Bonuses, which activate a multiplier, boosting the rewards. 
FrutoBoom Symbol: Appearing on reels 2, 3, and 4, the FrutoBoom symbol triggers the Cashy Free Game feature. This exciting bonus round consists of 12 free spins, during which cash bombs explode to reveal prizes. The potential prizes during these spins include x1, x2, and x5 of the total bet. While free spins cannot be retriggered, they offer an opportunity for significant winnings.
Winning the Game 
Fruto Boom offers many payout possibilities, making it an attractive choice for players seeking entertainment and profit. The game's symbols, excluding the special ones, offer payouts ranging from $0.25 for three symbols to a generous $25 for five symbols on a payline. However, the real excitement lies in the bonus features.
Consider the following tips to maximize your chances of winning in Fruto Boom.
Utilize the Wild: The Wild symbol (Big W) can help you complete winning combinations by substituting for other symbols. Keep an eye out for it, especially when aiming for higher payouts. 
Fizzy Bonus Multipliers: Try to trigger the Fizzy Bonus feature with three or more symbols to access cash prizes with potential multipliers. Landing four or five Fizzy Bonuses can significantly boost your winnings. 
Cashy Free Game: Look for the FrutoBoom symbol to trigger the Cashy Free Game feature. While you can't retrigger free spins, the cash bombs can yield substantial rewards, so make the most of each spin. 
FAQ 
Can I play Fruto Boom online slot for Free at Red Dog Casino? 
Of course! Before enjoying Fruto Boom for real money, you can try the game for fun in a demo version.  
Can I retrigger free spins in the Cashy Free Game feature? 
No, free spins cannot be retriggered in the Cashy Free Game feature. However, the initial 12 free spins offer plenty of opportunities for winning.
Is there a mobile version of Fruto Boom slots available? 
Red Dog Casino offers a mobile version of Fruto Boom, allowing players to enjoy this fruity adventure on their smartphones and tablets.
Conclusion 
Fruto Boom at Red Dog Casino is a delightful slot game that transports players to a tropical paradise filled with juicy fruits and exciting features. Its vibrant theme, user-friendly design, and numerous opportunities for winning offer an engaging gaming experience.
The Wild symbol, Fizzy Bonus, and FrutoBoom symbol bring the game to life with their potential for significant payouts. By following our tips, players can increase their chances of winning and make the most of this fruity adventure.
Whether you're a fan of online slots or simply looking for a refreshing and entertaining game, Fruto Boom is well worth a spin. Give it a try at Red Dog Casino and see if you can unlock the cash prizes hidden among the fruits of this tropical oasis.