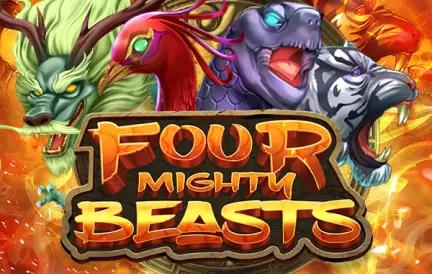 Embark on a mystical journey through the heart of ancient Chinese mythology in Four Mighty Beasts at Red Dog Casino, a spellbinding online slot game masterfully crafted by Dragon Gaming. This 5x3 reel slot boasts a staggering 243 paylines, promising players an epic adventure like no other.
As you enter this enchanting realm, you'll find yourself amidst breathtaking scenery—an animated backdrop featuring a magnificent temple perched atop rugged mountains, cascading waterfalls, and ethereal godrays piercing the clouds. This picturesque setting sets the stage for a transcendental gaming experience.
The stars of this celestial adventure are none other than the four iconic mythical beasts—the mighty tiger, the awe-inspiring dragon, the regal phoenix, and the wise turtle. These legendary creatures serve as your guides and companions as you navigate the game's reels, offering a tantalizing glimpse into the riches and mysteries of Chinese folklore.
Join us as we set out on a quest to unlock the secrets of the Mighty Beasts in this Four Mighty Beasts slot review. From its mesmerizing design to its captivating gameplay, this slot promises an unforgettable journey through the heart of ancient legends, where untold treasures await those who dare to spin the reels.
Celestial Beauty and Majestic Grace
Four Mighty Beasts by Dragon Gaming is a visual treat that seamlessly blends the rich tapestry of Chinese mythology with modern online slot aesthetics. The game's design is a true testament to the artistry of its creators. The icons of the four mighty beasts—tiger, dragon, phoenix, and turtle—are intricately detailed, each capturing the essence of these mythical creatures. From the fiery presence of the phoenix to the commanding aura of the dragon, these symbols breathe life into the game with their vivid and lifelike depictions.
The overall design is a splendid fusion of Asian stylization and crisp, contemporary art. The vibrant, lively colors throughout the game's visuals pop off the screen, immersing players in a world of vivid beauty. The animated backdrop, featuring a serene temple amidst rocky mountains, waterfalls, and godrays, is a visual spectacle of its own, setting the stage for an epic gaming experience. Four Mighty Beasts slots are a testament to the importance of art and design in the world of online slots, where every element is meticulously crafted to create an immersive and captivating atmosphere.
Learning Ancient Wisdom of the Reels
The game incorporates a number of special features to make your experience more engaging and memorable: 
Free Spins; 
Wild Beasts Bonus Game; 
Tiger Jumping Wild; 
Tortoise Expanding Wild; 
Vermilion Bird Sticky Wild; 
Dragon 3x3 Wild; 
Re-Spins.
Free spins are granted for landing 3 or more Scatters anywhere on the reels. The more Scatters you land, the more Free Spins are awarded. If you land a bonus game, you will be presented with 4 beasts and rewarded with a random Wilds bonus game. 
During the Tiger Jumping Wild 2, symbols will appear at the start of free spins at random. With each spin, they jump to a different position, replacing any symbol except for other unique symbols, granting bonuses to your winning combinations. 
Tortoise Expanding Wild can only appear on reels 2 to 5, and once it comes up on the reel, the wild expands for that spin. 
Sticky Wild Phoenix icon will appear at random on the field. It will stay in its original position for 2 spins and overlap any non-special icon or an "old" Wild. 
Dragon 3x3 Wild can only appear on reels 2 through 4 and Will boost any other Wild on the field, making them overlap the entire 2-4 reel area.
FAQ
The game has a lot of unique features. Can I play it without betting any actual money to learn the rules at first?
Of course! Dragon Gaming slot machine includes a free demo mode that lets you play Four Mighty Beasts online slot for free. You don't have to worry about complex mechanics and can start your journey to coveted treasures and play Four Mighty Beasts for real money whenever you feel ready.
Is Four Mighty Beasts well-optimized?
The game runs great on both conventional computers and mobile phones or tablets. Players can also run it directly in the browser for fun without downloading the app first.
Does the game have a high RTP?
Four Mighty Beasts boasts a respectable 96% RTP.
Final Thoughts
Four Mighty Beasts from Dragon Gaming takes players on a mythical journey at Red Dog Casino. This 5x3 slot with 243 paylines features stunning visuals with four iconic mythical beasts raising the bar for designers in the industry. It offers a myriad of special features and mechanics to keep you entertained for hours. A free demo mode allows practice and is optimized for desktop and mobile play; no app download is required. With a solid 96% RTP, Four Mighty Beasts promises an immersive and rewarding adventure into ancient Chinese folklore.