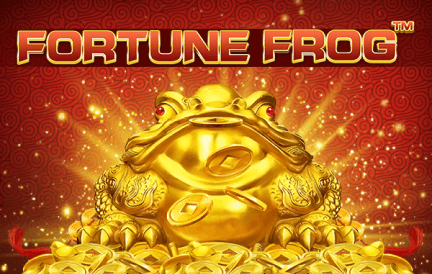 Many of you have seen those frog figurines at the flee and souvenir markets all over the world: this creature sits on the stone with some coins in its mouth and around. But few know that this frog's name is Feng Shui, and it not only loves money but is also supposed to bring wealth to its owners.
It is exactly what the Fortune Frog by DragonGaming does: it gives you a chance (a lot of chances) to get some cash in your pockets. There is nothing to learn about this game: 3 reels and 1 payline make it one of the easiest slot machines to play. So, try Fortune Frog at Red Rog Casino, and this review will tell you what to expect from it and how to win.
Another notable thing is that you can play this slot game on mobile devices as well. There is no need to install any applications on your gadget that will slow it down. Open the browser, get to the Red Dog casino web page, find the game, and enjoy it!
Theme and Design
This game brings you everything you may expect from a Chinese-themed slot machine: red and gold color scheme, corresponding music, ancient Chinese coins with a hole in the center, and the same decorations.
All the controls are located at the bottom of the play screen: players can set their bets there, see their balance, spin the reels, and use the auto spin button. Information about the possible wins is presented in the top left and right corners.
Gameplay Features
Fortune Frog slots cannot boast a variety of symbols, as there are:
green pots with coins, a combination of which brings you an x40 multiplier;
purple pots with coins, a combination of which brings you an x60 multiplier;
red pots with coins, a combination of which brings you an x80 multiplier;
golden frog – a wild, three of which get you x120 multiplier.
To emphasize the randomness and unexpectedness of luck, hitting one wild symbol will multiply your win by 5, 8, or 10. The multiplier will be a surprise to you. The only thing you can be sure about is that you WILL get your prize; this slot's RTP is 96.5%. But what will be your multiplier – it is a secret.
Two wilds will make the reels spin until you hit the winning combination, and of course, all the multipliers available will also be applied in this case.
Winning the Game
The Fortune Frog slot review would have been a bad review if it did not tell you how to play the game and win! Another question is that there are no specific ways to do that here. Hunt for the 3-wilds combination, as it will multiply your reward by 120. Even if you are hot getting anything for a long time – this combination can compensate for all your losses in one shot. With the highest available bet of $20, the sum you can hit is $2400, which looks pretty good for a one-payline slot machine.
FAQ
Can I enjoy this game if I am a casual player who does not want to spend any money?
You can play Fortune Frog online slot for free in Red Dog casino without any problems. The game is available to our casual visitors in demo mode. If you do not have any serious intentions – do not register at our website, and you will get the demo versions of all our games to your service. Demo means you do not need to invest a single penny. On the other hand, the game won't give you a single penny in return. Playing for fun only! To play Fortune Frog for real money, you need to register.
Does my location matter?
Unfortunately, before joining our casino, you need to check the list of supported countries in our T&Cs. There are some restrictions, and if you try to join us from a country from that list, even using VPN, your account will be banned.
How old should a player be to join?
Our policy is that you should be over 18. But you should also check the local regulations about the legal age for gambling and follow them.
Verdict
Fortune Frog slot is a solid representative of 1-reel slot machines with appealing graphics and simple rules. A great game for newbies who are only getting into slots and don't want to be overwhelmed with 50 paylines and for pros who just want to chill a bit.