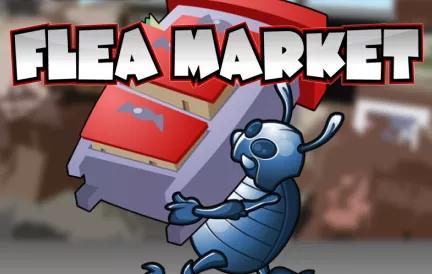 In the early 2010s, the market was flooded with hundreds of innovative games coming from the industry's major providers, and not all experiments were perceived well by the gamer community. Flea Market by Rival Gaming was the company's response to the increasing demand for less sophisticated slot machines - its key specs list speaks for itself:
3-by-3 playing board layout;
max Coins jackpot of 10,000;
return-to-player rate of 95.2%;
low volatility (very frequent wins with moderate payouts).
Having filled our shopping cart with these simple yet rewarding features, let's see what other bargains we can stumble upon in our Flea Market slot review!
Style & Graphics
The game's design demonstrates what happens when you take a set expression literally. The market in the backdrop is indeed occupied by alien-like, human-sized fleas running their shopping errands among the fruit stalls. The board itself is not particularly diverse, but the available symbols are a pleasure, and the spinning animations are as fluid as in any other Rival game.
Core Gameplay
Flea Market is the game you should go for if you're an entry-level player. Unlike in the slots with a 5x3 layout, there are no mind-boggling paylines to keep track of and only 6 symbols that can form 7 winning combinations. Here's a reference table (you can also open it in the game by pressing the sandwich menu button in the bottom left):
3x Diamond Ring: 40 Coins;
3x Drawer: 1 Coin;
3x Lollipop: 0.4 Coins;
3x3 Blue Bar Signs: 0.3 Coins;
2x3 Red Bar Signs: 0.25 Coins;
3x Green Bar Signs: 0.12 Coins;
3x Blue + 2x Red + 1 Green Bar Sign: 0.03 Coins.
In-Game Extras
While the slot machine doesn't have a Free Game mode, it still boasts a neat stack of bonus features that you'll see often. The Scatters pay regardless of their position on the board - one grants you 0.01 Coins, and hitting two results in a 0.03 Coins payout. The Wilds follow the classic rules, but you can also score a Double Wild - with it on the board, your payout will be quadrupled!
FAQ 
What does it take to play Flea Market for real money?
Three things:
an active Red Dog player profile;
a linked and verified payment method for deposits and withdrawals;
some cash on your casino account.
Spend 5 to 10 minutes setting up everything, and you're ready to win big!
How can I play Flea Market online slot for free?
Currently, Red Dog does not offer an opportunity to play games for fun. However, most game database sites feature demo versions of the titles they review - finding one with Flea Market will only take a few clicks.
Is it possible to play Flea Market slots on a smartphone?
You should have no issues launching this or any other game from our roster in your mobile browser. We take our time with the tests and tweaks before making any title available to the players.
Verdict
Flea Market is an excellent example of how you apply the 'less is more' principle to slot game development. Rival Gaming was particularly prolific in the first half of the 2010s, and this title epitomizes their approach at the time: starting with a slightly eccentric idea as the foundation and then building on top of it with tried-and-tested gameplay features. When playing Flea Market at Red Dog, you will surely experience the excitement of a rare discovery - just like finding a bargain on a car boot sale!