Fairytale Fortunes: Queen of Hearts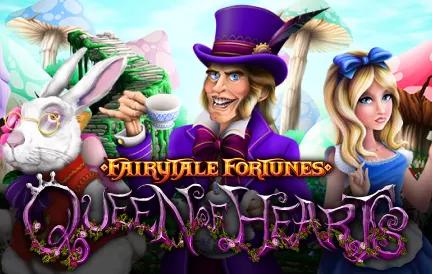 Do you ever feel like just running away from your boring life and following the White Rabbit into his rabbit hole to the eponymous Jefferson Airplane song? Or maybe you are really keen on fancy tea parties with crazy people and ridiculously charming cats? Are royal processions and shades of red more of you thing? Prefer ivory royalty members to crimson? Well, just like the Lewis Carroll's wondrous original story the latest addition at Red Dog Casino - Fairytale Fortunes: Queen of Hearts by Rival Gaming has it all. So come on and hop into the world of craziness and insane wins brought to you by one of the best known mad geniuses on the virtual slot machine market today - Rival. It's a six reel slot game, which is quite rare in and of itself, with astounding 4096 possible paylines! Read on If you want to find out more about what Fairytale Fortunes: Queen of Hearts at Red Dog Casino has to offer.
Theme & Design
The title takes you to the land of giant talking flowers, magical mushrooms and all kinds of magical creatures. The game's backdrop is beautifully animated and feels incredibly lively. In line with the energetic background, the colors used are extremely vibrant and bright. The fonts quite appropriately look like they have been splashed onto the screen by a madman with a brush, instead of being written. The symbols on the reels themselves are amazingly spirited, and include all the beloved book characters as special symbols with a wild curveball in the form of a Dodo symbol being thrown in. After all, what is a true Alice in Wonderland experience without some real life madness? The "rank and file" card symbols are represented by the royal guards holding shields with cards' rank as a crest which is quite fitting both mechanically and thematically.
Gameplay Mechanics
Starting from the very top, the game is a 6-reel 4096 payline slot. It has an RTP of approximately 95.3% and is deemed a low volatility slot. Fairytale Fortunes: Queen of Hearts slots also offers a number of special features making games a lot more engaging. Added to the regular slot symbols are Scatters and Wilds. All the games are registered left to right and only at he highest paying line is being cashed in. When matching symbols appear on an active pay line, you will win. The number of matching symbols and the values shown on the paytable accessible via the in-game menu will decide the payment. Except for scatters, all wins are doubled by the number of coins bet per line.
In-Depth Extras
Now, on to some more details. Not needed to appear on a single payline, Scatter symbols will pay out when they appear anywhere on the screen. The sum of any scatter wins is multiplied by the quantity of active lines. Te Free Spins are awarded according to the following table:
6 Scatters = 15 Free Spins
5 Scatters  = 10 Free Spins
4 Scatters  = 7 Free Spins
3 Scatters  = 5 Free Spins
Next up are Wilds. Upon forming a winning line, Wild symbols will take the place of all other symbols. They don't take the place of Scatter symbols (e.g. Free Spin or Bonus symbols). Only the highest multiplier in a win line is used when it applies. Growing Wilds will do so anytime fresh wins can be formed, taking up the full reel (not including scatter wins).
FAQ
What is the maximum payout possible in Fairytale Fortunes: Queen of Hearts?
You can bet 10 coins maximum on a single line with the coins value being $0.25. The maximum possible multiplier in the game is achieved through getting 6 Alice symbols granting you a 50.000 times multiplication benefit, getting the best possible win to maddening $125,000!
Is there a way to play Fairytale Fortunes: Queen of Hearts online slot for free?
In the case you are a player who would like to test the game first before playing Fairytale Fortunes: Queen of Hearts for real money, it offers a free demo mode, so you can familiarize yourself with the system without any pressure first.
Does Fairytale Fortunes: Queen of Hearts run well on mobiles?
Rival uses the best tech to optimize their products and makes sure there are no major hiccups before releasing their games. If you have the latest update for your phone or tablet, you shoul be fine.
Verdict
Fairytale Fortunes: Queen of Hearts offers a unique rewarding experience and has a potential for some amazingly high wins. If you are looking for a lively, bright game with interesting mechanics, large playfield and fun gameplay, most definitely give the last Rival's creation at Red Dog Casino a go!